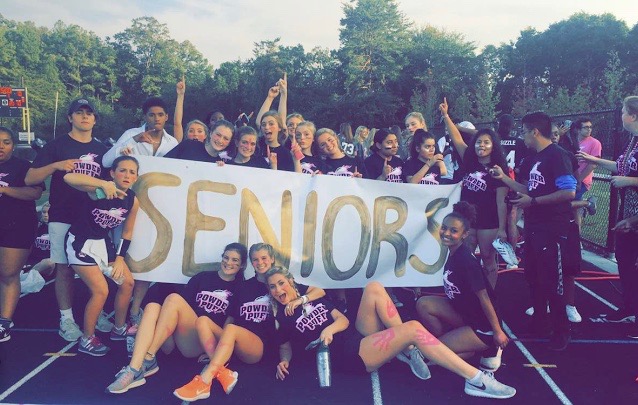 Powderpuff is a well-loved homecoming tradition here at North Atlanta. Each year during homecoming week, the girls of each grade face off for a fierce game a flag football, while the boys cheer. The seniors play juniors and the sophomores play the freshmen, then the winners play each other to decide the ultimate victor.
This year each grade had its eye on the prize and was more determined than ever to beat their opponents. Sophomore Dylan Sellers was one example of someone with a steely resolution to win, and shared her enthusiasm for the game. "I'm excited to kick some freshmen butt. Sophomores are definitely the best," she said.   
There is a variety of reasons people participate in Powerpuff, however, one driving factor are the t-shirts. Each grade has a different color with freshmen in white, sophomores in light grey, juniors in dark grey, and seniors in black. Students also always come up with a clever pun for their name on the back of the shirt. For example, Chloe Van Nort's jersey name is very clever, being Coco Puffs. On the day of the game, students walk around the school, eyeing their rivals the entire time, but after the game, pictures of girls in their jerseys flood Instagram by storm.
This year's powderpuff game was extremely intense. The freshmen vs sophomore game was very heated, each team thinking they had the win locked up. In a shocking turn of events the freshmen won 21 to 0. Freshmen Avarie Price said she was overjoyed when they won. However, many sophomores felt like their younger counterparts cheated, such as tying their flags around their waist.
Next up the it was the junior vs senior game. Many seniors were expecting juniors to win due to a lack of practice. It was competitive but the juniors pulled out the win 6 to 0, with the juniors winning in double overtime. Then came the finale, with the juniors versus the freshmen. Seniors and sophomores cheered on the juniors, hoping for them to stop the measly freshmen. But, too bad for all, youth prevailed, and the freshmen emerged victories. "I was pumped when we won," said teach coach Patrick Cheney. "We had very talented girls. But let's be real: the coaching was the reason we won."
Even though they may have won this year, watch out. Next year, the upperclassmen are coming for you.