New Netflix Show "Queer Eye" Brings LGBT Acceptance Further Out Of The Closet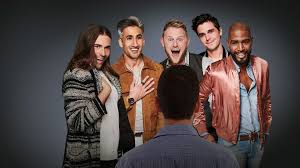 Hang on for a minute...we're trying to find some more stories you might like.
After the first debut of of "Queer Eye For The Straight Guy" in 2003, there have been many breakthroughs in terms of LGBT acceptance. All states have now legalized same-sex marriage, the Pentagon lifted the ban on transgender people serving openly in the U.S. military, and several prominent openly gay politicians have been elected in the U.S. Senate, such as Wisconsin Sen. Tammy Baldwin in 2012. Now, the show is back with a new cast and a new style, causing it to gain a trendy following.
After being released in early February of this year, Netflix's "Queer Eye" established itself with a relatively similar formula. Five gay men, which make up the cast, give advice to straight men on how to pull their lives together. Each member has a specific category that they are in charge of. There is Antoni Porowski, the food and wine expert, Tan France, the fashion expert, Karamo Brown, the culture expert, Bobby Berk the design expert, and Jonathan Van Ness the grooming expert. Together, the self-proclaimed "Fab 5" travel around the country helping their selected bachelor with his problem.
The show has quickly gained popularity among North Atlanta students. "I really love seeing makeover shows," said junior Caroline Tuelmer. "I think it's just really cool to see the transformation of somebody."
Each episode is pretty simple. The five men have four days to renovate both the bachelor's home and his look. The show sprinkles in some emotional drama, such as an individual gaining more confidence and — in one case — a character moving on after the death of a loved one. Sprinkled into the show's narrative elements also comes a dash of politics. For example, in a recent episode a seemingly typical white, Trump supporting, conservative police officer from Georgia engages in a conversation with an African-American cast member and in so doing moves toward a broader perspective about the way African-Americans view law-enforcement.  
Since its debut, the new reboot has received mostly positive reviews and high ratings from its viewers. Many love the different personalities the "Fab 5" carry with them and appreciate its pro-LGBT agenda. Others argue about the show being too repetitive, showing stereotypes, or just bringing nothing new to the table. "It looks like an interesting show and I like how they remodel people, but it's almost kind of like they're all stereotypical gay," said junior Kennedy Rouse. "But at the same time it's not stereotypical in other ways."
However, with the show now coming out with a future second season, fans have praised it for showing further progress into breaking boundaries in terms of being accepting of others, regardless of their sexuality, race, ethnicity, or occupation. In terms of entertainment, "Queer Eye" is definitely a show to keep an eye out for.