Wiley Hartley Named Georgia Elite Classic MVP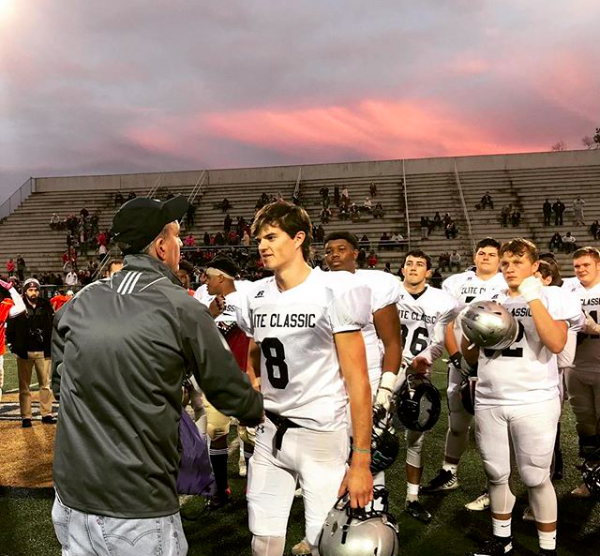 Hang on for a minute...we're trying to find some more stories you might like.
In a game full of talented juniors throughout the state of Georgia, North Atlanta quarterback Wiley Hartley picked apart the defense on his way to earn the Most Valuable Player award. After Hartley showed out this fall, leading the win-challenged Warriors to a five and five season, he was invited to the Georgia Elite Classic all-star game where the top players in Georgia go head-to-head. The game took place on Dec. 28 and during the event Hartley completed seven passes for 161 yards and threw two touchdowns, as he led the Nationals to a 31 to 17 victory over the Americans.
Hartley showed he can compete against some of the best during the regular season, where he threw for 1,818 yards and 22 touchdowns in North Atlanta's tough 6A region. It is no surprise that he was able to dominate in the all-star game too. "I am glad I had the opportunity to compete against some of the best in the state and represent North Atlanta athletics," said Hartley.
He came out on fire as he threw a 70-yard touchdown on just his second play in the game to Wheeler wide receiver Ricky White. From here on out, all eyes were on Hartley as he continued to pick apart the opposition. In the fourth quarter, Hartley threw his second touchdown to Devin Ellison of Cherokee. This topped off Hartley's incredible game and led him to win the MVP. "It was an honor to be selected as the MVP in a game full of talent like that," said Hartley. "I have to give my teammates a lot of credit for making big plays."
This all-star game is full of talent, which leads many scouts to look out for star players. Due to his outstanding performance, Hartley received praise from some notable names throughout Georgia High School football. Rusty Mansell, a recruiting analyst for 247Sports, passed along a good word to his 49,000 followers in his tweet regarding Hartley's game. "This 2020 QB was extremely accurate this week," said Mansell.
Hartley proved his ability to be a star and a leader. With such showcased strength on the gridiron, college scouts are taking notice of the Dub signal-caller. As Hartley continues to dominate, doors to his bright future are increasingly opening wide.