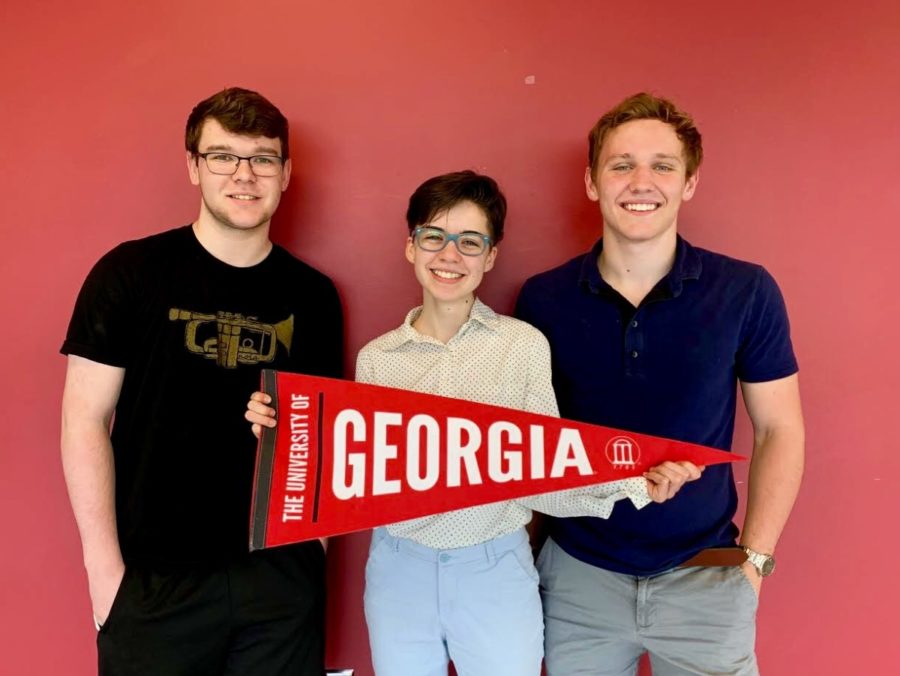 Olivia Chewning
Each year, thousands of hopeful seniors apply to the University of Georgia in Athens. To give an idea of the record popularity of the school, this year, UGA received nearly 30,000 applications for its freshman class.
A collegiate ticket to the increasingly hyper-competitive UGA is one that many students around metro Atlanta and the state want to punch. So anytime any high school can place a lot of its students in the state's flagship university in the Classic City, it's something to crow about.
North Atlanta can take justifiable pride in seeing 46 members of the Class of 2019 gain UGA acceptances, a gain over numbers seen in the Class of 2018.
The highly competitive university is the end goal for many seniors and they can be glad that their hard work will get them there. It is no wonder that UGA receives a tremendous amount of applications each year. The university ranks 13th in the nation for best public universities, according to the US News and World Report. For in-state students, it is especially appealing because of the availability of state scholarships. Both the Zell Miller and the HOPE scholarships can be given to eligible students who are also state residents.
Beyond its high-level academics, the University of Georgia boasts a wide array of Division One athletics teams. The eclectic town of Athens — a mere hour and change from Atlanta — is known around the country as the quintessential college town.
Fraser Pearson is among the large cohort of North Atlanta UGA acceptees. "I wanted to go to UGA because it seemed like a great school, with nice academics and a fun community," he said.
North Atlanta offers rigorous content in the form of AP and IB classes, both of which prepare students for college. The many accepted students headed to UGA certainly give North Atlanta a good reputation. After being accepted into UGA, senior Addie Derrick is able to appreciate all of the effort that high school requires. "I feel like four years are hard work finally paid off and now I get to go to a school that's fun and has great opportunities," she said.
As national college decision day approaches, newly accepted seniors are proudly donning their black and red. The road to Athens has been a long one, and for some, the odds have been in their favor. Among these future UGA students, there is much excitement for the next four years. For senior Campbell Johnson, her UGA acceptance has been a long time in the making. "It's been my dream school for my entire life and I'm thrilled to be a Dawg," she said.
Getting into the selective college is no small thing and a large contingent of North Atlanta students made it look easy. They'll be trading their black and silver in for red and black. Get ready Classic City, these motivated Warriors will soon be Dawgs!