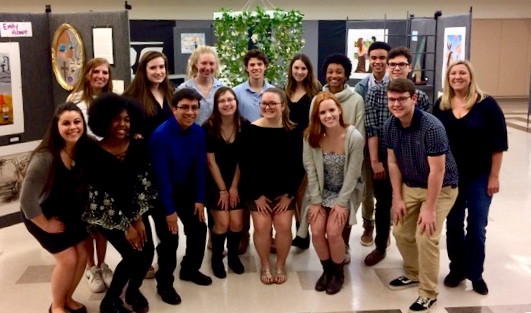 IB Art Exhibition
The IB Art Exhibition on March 23 showcased the art of some of North Atlanta's finest visual artists, giving the masses a glimpse at all that these dedicated students have put themselves into these past two years. Each artist begins their junior year with an overarching theme on which they base their work going forward. "My theme was mortality and that's what all my pieces were based around," said senior Diego Alvarado. "It's pretty edgy."
Attendees of the exhibition described it as both impressive and surprisingly professional. With all different art mediums from pottery to charcoal. The show truly showcased the wide rage of talents possessed by our IB art students. There was even an interactive piece which allowed audience members to walk into the piece itself. "The art is very conceptual, you are usually able to see a lot about a person through the art they show," said senior Mackenzie Bui.
Not only is the IB Art Exhibition a wonderful experience for those who come to enjoy it, but it provides the artists themselves with an outlet and an opportunity to see their art in a more professional setting that they may not have had access to otherwise. "The exhibition allows us to have a focus and a purpose behind our work," said senior Samantha Wilson. "It helps us to understand how art relates to the world and how we can connect to other things other than ourselves and connect how we feel about art to the world."
Despite the lasting impact of this exhibition and the talent demonstrated by the artists involved in it, the general knowledge about and attendance of this event are far lower than they should be. The senior artists admitted that a great majority of the attendees were there own parents which is, understandably, disheartening. "The exhibition honestly doesn't get as much promotion as it should. We work really hard and a lot of the students have some amazing art. We are really underrated," said Alvarado.
The IB art students have noted that visual arts don't tend to get the same attention from the school as the performing arts and they would very much like to change this. With all the hours of work they put into their work and the clear talent they have, the IB Art Exhibition really should be given more praise. However, despite that, many enjoyed the ongoing two-year project and finally being able to showcase it to the public, and those who attended the exhibition enjoyed looking at the different pieces that the IB Art North Atlanta students can do. The visual artists of North Atlanta encourage every student to get more involved with and give more credit to student artists moving forward. The art exhibition serves as a way for its students to express the artistic side of North Atlanta, and produce an event that can be considered very noteworthy.