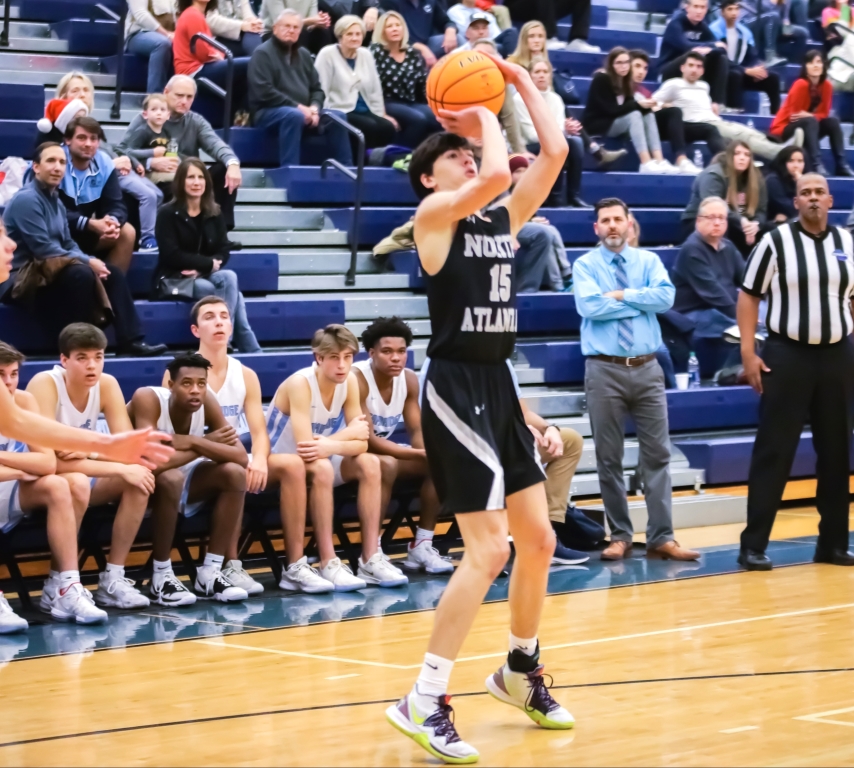 As the three pointer continues to take over the game of basketball, shooting specialists have become more and more valuable by the day. Luckily for North Atlanta, they have their own long-range sniper in the form of junior guard Charlie Hamilton.  Hamilton is the team's go-to spot-up shooter, but he can also handle the ball and defend. This is his first year with the varsity team after a stint on the Warriors' JV basketball team as a sophomore. Hamilton attributes his shooting ability to just practicing. "You have to shoot every day and get lots of repetition with your shot form," he said. "Every time I get shots up I make 10 free throws in a row and 3 threes in a row before I can end it." There's no substitute for hard work.
Off the court, Hamilton still incorporates his love for basketball all throughout his life. During the off-season, he dreads conditioning but understands and appreciates how it gets him ready for the season. A die-hard Florida Gators fan, he wears jersey number 15 on the court for former legendary Gators Tim Tebow and Al Horford. He also admires former Florida star, and current Washington Wizards scoring machine, Bradley Beal.
 Not only is Hamilton a stud on the court, he's also tried his hand at coaching. He's the head coach of his friends' Peachtree Road United Methodist church league team. "My team had a disappointing start to the season but we're hoping to bounce back," he said "The team needs to work on execution because their basketball IQ is low. I graduated from PRUMC so I'm passing my knowledge on as a coach. I wear sunglasses on the sideline to make sure I'm looking clean at the games." Hamilton is no longer allowed to play in PRUMC because they do not allow varsity players in their rec league, but he's given his best efforts to coaching his former teammates.
Basketball has been a big part of Hamilton's life for a long time, and you can see this passion exemplified on the court. His first memory of really playing the game comes at a young age. " I started playing basketball when I was 5. I would bait the kids into passing the ball into my lane and I would steal it," he said.  
While he's not sure how long he wants to continue his career, he is focused on the current season and helping North Atlanta get back to the top of the region. For now, Charlie Hamilton will just keep on shooting.