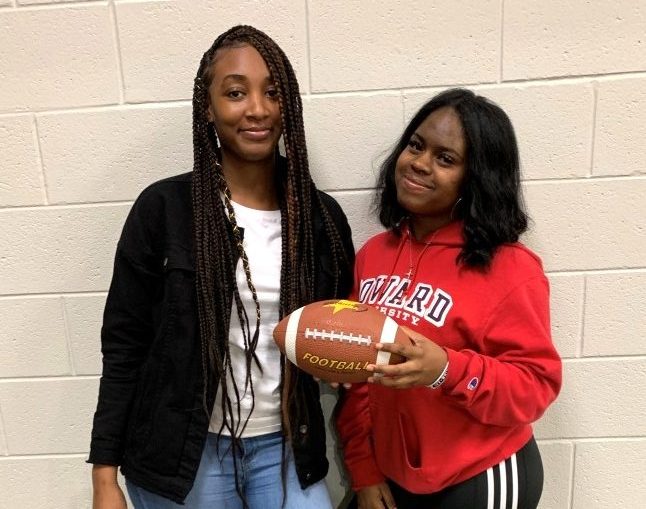 Warriors athletics is about to take flag football to a whole other level. A varsity flag football team is being introduced to North Atlanta in fall 2020 as an official GHSA sport. In December, Georgia became one of only four states to declare flag football an official high school sport and similar programs have started to be implemented all across the state. The first Girls Flag Football Championship game took place at Mercedes Benz Stadium this past December, with the Columbus High School Blue Devils taking the trophy. Atlanta Public Schools middle schools have also joined in, with teams at all 13 schools.
The program is still in its first phases and as such, there isn't an overwhelming amount of specific information available. Flag football is an official GHSA varsity sport, so there will be tryouts. The season will run from October to December, with playoffs wrapping up the season in December. A certified teacher will coach the team, but as for who that teacher will be is unknown. Very little is set in stone, but there is considerable interest that will drive the program through its initial phases.
Athletic Director Andre Reagan is heading up the launch of the program and is excited about the amount of interest he has been receiving. He plans to have a meeting in a few weeks for all interested female athletes. He wants to grow the program but knows that it will have to go through multiple phases of development to reach the caliber of other GHSA sports. "It's new. It has to go through all the proper channels." he said, "It's a lot of planning but it's a good thing that GHSA is sponsoring it."
Junior Destiny Togba is one of the many female athletes interested in the flag football program. She has played flag football for two years as a sophomore and a junior. The defensive lineman said she's drawn to the idea of sisterhood and a bond between her teammates. She also wants to get and stay fit, and sees the program as a way to do that. "I'm really excited about this and I'm ready to see where it takes me," said Togba.
Flag football is spreading across the state of Georgia as an official varsity sport and it has reached the steps of North Atlanta. Although not much information is known right now, one thing is certain. Warrior female athletes' interest in the program will help propel the program forward and make it one a reality one day very soon.