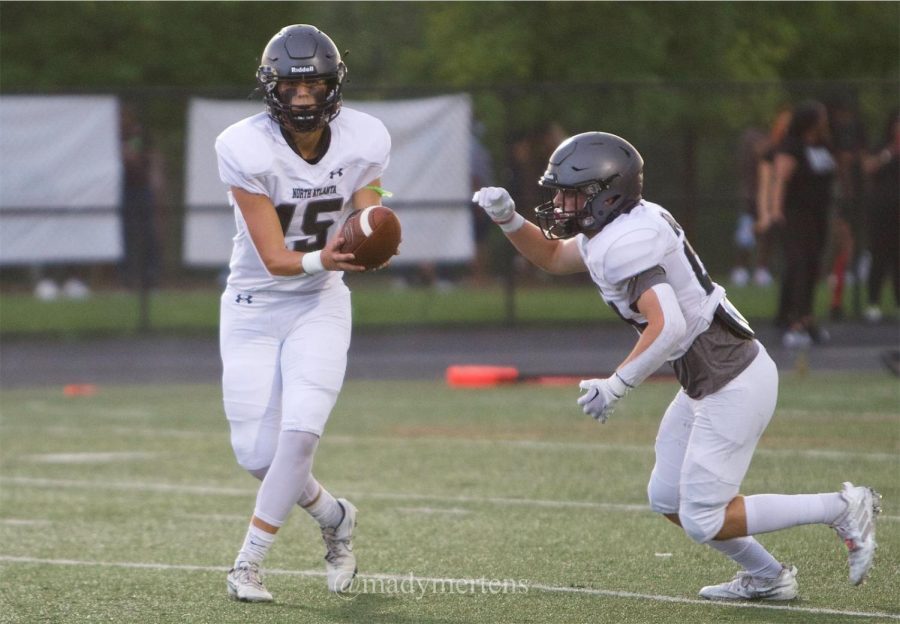 While your average North Atlanta student was sleeping in and relaxing all summer, the Dub football team was up before sunrise, working hard for a strong 2022-23 campaign. The upcoming season comes with extra excitement as the Warriors face off against new division rivals that provide an unfamiliar and competitive challenge, making every game must-watch.
The Dubs are now in division 6A, prompting new opponents such as Marist, Dunwoody, and the St. Pius Golden Lions. A tough and unpredictable schedule lies ahead, but as seen in the team's debut scrimmage win against Westminster, they are more than capable of elite High School competition. "The New division is just as exciting for the team as the fans." said senior star Offensive-Lineman Michael Bell. "Be ready because big things are coming."
The Warriors look elite on both sides of the ball thanks to elite playmakers like Hunter Davis. Davis, a tackling fanatic last year, becomes a double-edged sword, acting as both a starting linebacker and running back for the upcoming season. His mix of strength and speed gives the Dubs a new and exciting power-run look on offense. "I'm excited about the season. Potential is at an all-time high and I know we are going to win a lot of games this year," said Davis.
With Davis at the helm of the defense, the Warriors are looking to lock down opponents. Alongside the star linebacker, the strong defensive lineup highlighted by swiss army knife Quentin Fields and heavy hitter Connor Hughes is destined for a big season. Offensively, they are as electrifying as they are deep. With multiple stars who can put up big numbers, including starting tight end Randolph Smith, there is no shortage of potential for this squad.
One of the most exciting storylines for this upcoming season is the quarterback battle between Trey Lennon and Ian Reynolds. Trey, a true speedster, gives more of a dual-threat approach to the offense. His athleticism and speed make him elite on the ground. Reynolds on the other hand is more pass-heavy and gives the Dubs a well-rounded air-focused attack. Both quarterbacks and their respective strengths may allow for a dual quarterback look which could broaden the teams scoring ability.
This year's season is bound to be full of excitement and success. The energy in the locker room is high and they know they have the student support to match. The team will kick off the season on August 18 against North Forsyth as the Dubs will hope to get an early win to build momentum for a monumental season. North Atlanta football is on the come up and this year is bound to continue that trend.