U.S. Men's National Soccer Team Eliminated From Play in 2018 World Cup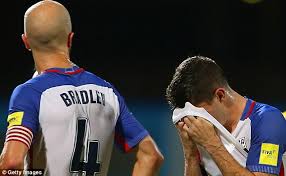 Hang on for a minute...we're trying to find some more stories you might like.
For the first time since 1986, the U.S/. Men's National team was eliminated from the World Cup qualifier. The team was defeated with a 2-1 loss to Trinidad and Tobago, a small island in the Caribbean. This loss was very unexpected, causing an excruciating shock throughout the large fanbase of American soccer.
The match began with an own-goal caused by U.S. player Omar Gonzalez in the 17th minute. Then, another goal for Trinidad and Tobago in the first half, leaving the U.S. trailing 2-0. With determination to come back with a win, the Americans scored early in the second half. Unfortunately, the team couldn't manage to finish with the desired results. As a result, the 2018 World Cup in Russia will not be a reality for the the U.S. Men's National Team.
Fans all across the country were feeling a range of emotions from horrified and angry to traumatized and confused. "The US soccer team is the world's underdog. It was a shame to see them miss the cut," said sophomore Ezra Midkiff.
If this embarrassing elimination was not enough, head coach of the team Bruce Arena resigned on Oct. 13. Overall, the U.S. Men's Soccer program is in shambles. Measures are being taken in order to fill this position as soon as possible, but the rampant inconsistency of the situation is taking a toll.
As a nation, there is some hope that the U.S. can redeem itself in the next season, and be able to come back with a better roster, a better record, and a better experience than this unlucky year of soccer. In the meantime, for American soccer fans will have to stew for many years until the Yanks play in the World Cup again.