Game, Set, Match for Warrior Tennis Team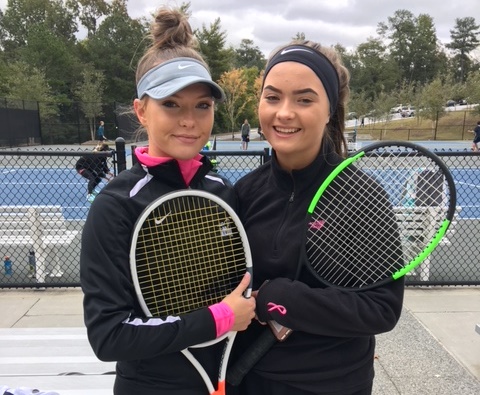 Hang on for a minute...we're trying to find some more stories you might like.
The North Atlanta tennis team is getting back on the courts and beginning its 2018 season. After a strong third-place finish in fall USTA leagues, players broke out their rackets and tennis shoes once again to show off their skills in tryouts and begin the difficult season.
Last year marked North Atlanta's first year in the 6A region. This new region brought more skilled opponents for almost all of the NAHS sports teams, but perhaps for the tennis team in particular.  Last year, for example, all eight boys and girls tennis teams in the State semi-finals were from our region.  This year, the players are hoping that the many new freshmen additions to the team will add the needed boost to help our strong returning players beat some of the tougher opponents. "I'm excited to have joined varsity as a freshman and I'm excited for the season," said freshman Elizabeth Clippinger, who joined North Atlanta from Sutton.
The team's coach, Mike Hutchings, returned for the season after being "benched" last year due to back surgery. Hutchings is glad to be back on the court with the players and is ready to guide the team through the season ahead. "I have high expectations for the team and I know that we will be successful," he said.
Players who have been on the team for multiple years now feel confident that this season will be better than years in the past.  "I think that the new ninth graders will help us have a stronger team," said junior Kate Jern, who is in her third year as one of the team's top singles players.
Freshman Ben Blauser, a highly ranked USTA player, agrees.  "This region is college-level tennis, and we're looking forward to the challenge.".  The team's biggest opponents are considered to be Cambridge and Northview, winners of the State girls and boys titles, respectively. Example? Cambridge girls made it all the way through the State tournament without dropping a set to any opponent. This year the players hope to challenge Cambridge, Northview and others and prove that even though the North Atlanta teams are relatively young, they can play confidently.
The Warriors are ready to compete against any player that comes their way and can't wait to prove themselves to be worthy opponents this season. Hopefully with this optimistic attitude, the tennis team can serve up some mean competition.