"Midnight Sun?" More Like Midnight Mess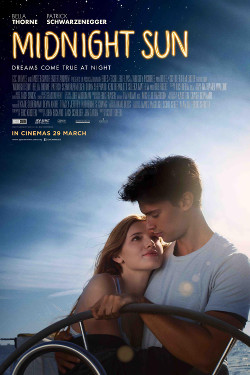 Midnight Sun was released on March 23, 2018. The film stars upcoming teenage actors, Bella Thorne who plays the role of Katie and Patrick Schwarzenegger who plays  Charlie. I bet you can already guess, these two main characters conveniently fall in love in the end, but not without adversity. The movie was heavily advertised before the release date as the "most romantic movie of the year", however after seeing this film, it should have been marketed as the "cheesiest" movie of the year.
Katie Price is introduced as a carrier of "XP", a disease where one is deathly sensitive to sunlight, causing the main character to only be able to go out at night. Katie's character fits the classic role of a introverted, guitar-playing girl who has a long-term crush on her neighbor, Charlie. Of course, he is the outgoing swim star, who is getting tired of the high school drama.
I was excited to see this movie after watching the trailer and expected a romantic coming of age film, but was very overwhelmed with the cheesy script and the forcefully cliché plot. I noticed that the trailer is made up of only the very best parts of the movie, however the rest of the film was made up of average material.
Midnight Sun is also exceptionally similar to the 2017 film Everything, Everything, which followed a girl who could not go outside because of a disease in her immune system. I have also seen that movie, and could not bother noticing the very close resemblance in plot lines.
The film was not all bad, and had some moments that made the audience genuinely laugh and cry. The ending was a tear-jerker, but the mediocre acting and fake crying made it not as believable. Overall, I could not get passed the cheesiness and of the plot, which left me feeling like it was just like every other high school movie we have seen many times before.