The Quarterback: In Season With Warrior Signal-caller Wiley Hartley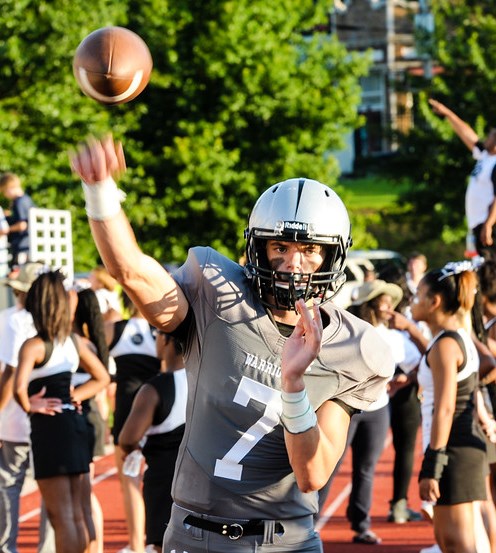 Hang on for a minute...we're trying to find some more stories you might like.
A great quarterback is what all football programs strive for but as all football fans know, they are not easy to find. For North Atlanta, the all-important signal-caller position is ably filled by junior Wiley Hartley, who now in his third season in the role as the leader of the team's offensive unit.
But what makes this young man tick? And just how does he get ready for the weekly Friday night battles where all eyes are on him, and all opposing linebackers are headed his way? Music plays a large role in the confidence of Hartley as he gets focused before kickoff. When preparing for a big game, Hartley kicks it old school for 70s-era rock popular among older generations. To get his game on, he cues up the the 1974 hit "Bad Company" from the vintage rock band of the same name. "There's something about the ring of a vintage Les Paul that gets me going. And nothing compares to Bad Company when it comes to that," he said.
When in game, while the Dubs student section is filled with cheering and all manner of Warrzone antics, the noise from the stands — for Wiley — is strangely distant. Hartley said as he receives the snap, the noise from the crowd disappears, and the game turns into nearly a slow-motion affair. For him there is only this: How to drop back and to pick the opposing secondary apart. "Playing quarterback is 90 percent mental, and that why I love it," he said. "Of course you've got to have a good arm and be able to take hits, but outsmarting the defense is what it truly comes down to," he said.
For a quarterback like Hartley, the bonds between him and his offensive linemen is one rooted in trust and brotherhood. The five hulking young men in front of him are charged with keeping their QB from all harm. And this front-line defense is constantly assailed by marauding defensive linemen, some of whom will be playing Division 1 football in a subsequent season. So when collegiate-level talent is bringing the heat, he said it can be a trying situation. "When there's someone right there, bearing down on you, you just know you're going to take the hit," he said philosophically. "What can you do? It's football."
Hartley and his linemen have created a special bond, which is important when it comes to trusting each other. "We are more than friends. We're brothers, fighting battles every week, all attempting to reach one common goal," he said.
The quarterback. The heart of the offense. A leader on the team. A big man on campus. Number 7. All these appellations apply to junior quarterback Wiley Hartley.  This season, he has his mind set on victory for the Dubs. And whether the wins come easy — or they don't — he's still got his mind on the next throw, the next game, and next chance at glory.