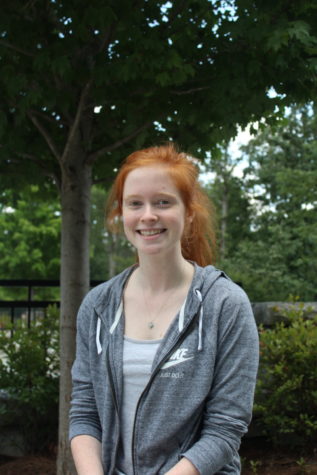 Kate Breeden is a junior and a returning staff member to the Warrior Wire. Kate enjoys reading
good books and eating great food. Kate is president of the Creative Writing Club and Book Club,
both of which you should join. Catch Kate struggling over her math homework or watching
House Hunters International.
Kate Breeden, Staff Writer
Apr 27, 2018

Battle of the Sexes: Who Should Pay for Dates?

(Story)

Mar 16, 2018

Apathy and Disrespect in the Face of a National Outrage

(Story)

Mar 03, 2018

Dying for Diet Sodas: Beverage Options Laden With Questionable Ingredients

(Story)

Feb 13, 2018

Love Is Just a Swipe Away With Tinder

(Story)

Jan 30, 2018

IB Extended Essay Is An Extended Headache

(Story)

Jan 30, 2018

"Ready Player One" Movie Ready to Engage Readers

(Story)

Dec 18, 2017

Running Club Running Other Clubs to the Ground

(Story)

Dec 12, 2017

Whoomp! There it is! A Teen Pregnancy Expose

(Story)

Nov 17, 2017

International Baccalaureate Program Smacks Students in the Face

(Media)

Nov 13, 2017

S-A-T? More like S-A-D!

(Story)

Oct 30, 2017

Are We Too Old to Trick-or-Treat?

(Story)

Oct 17, 2017

Music Midtown Strikes the Wrong Chord

(Story)

Sep 06, 2017

Disney is Leaving Netflix

(Story)

Aug 24, 2017

North Atlanta's New Book Club Welcomes Bookworms and Writing Enthusiasts Alike

(Story)

May 03, 2017

Chemistry Teacher Jeanne Hall Named 2017 STAR Teacher

(Story)

Apr 19, 2017

Nike Releases New Plus-Size Line

(Story)

Apr 17, 2017

"Rent" A Brash Success for North Atlanta Theater Department

(Story)

Apr 11, 2017

The Road Can Wait: Some Teens Postpone Getting Their Permits

(Story)

Mar 21, 2017

"Lion" Grips the Hearts of Moviegoers

(Story)

Mar 01, 2017

Student Workers Keep the School Bookstore Humming

(Story)

Feb 24, 2017

How Losing Our Title 1 Status Could Affect NAHS

(Story)

Feb 07, 2017

North Atlanta Tackles "Rent" for Upcoming Spring Musical

(Story)

Feb 07, 2017

Ultimate Fun With the Ultimate Frisbee Club

(Story)

Nov 14, 2016

North Atlanta's Twins Double Up on The Fun

(Story)

Oct 17, 2016

Study Tips from Successful Students

(Story)

Oct 17, 2016

Ankle boots. Let's Take a Moment to Assess.

(Story)

Sep 28, 2016

The Great Debate: Who's Got the Best Chicken Nuggets?

(Story)

Sep 22, 2016

Stop Littering in the Parking Deck

(Story)

Aug 30, 2016

Behind The Lenses: What's in Store for This Year's Yearbook

(Story)