Hallway Mania: Level One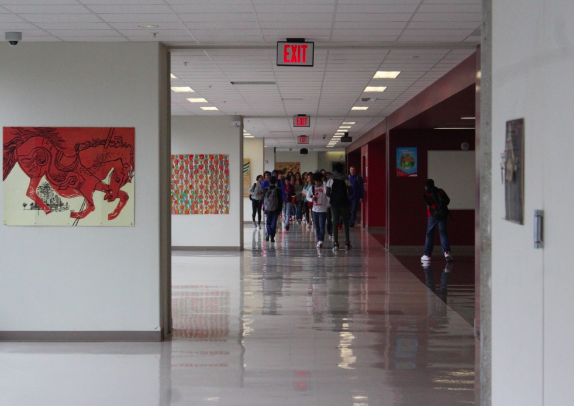 Hang on for a minute...we're trying to find some more stories you might like.
Despite the abundant supply of space that comes with an 11-story building, it is something that most students at North Atlanta High School struggle for. Whether it's awkwardly standing in the middle of a crowd waiting to get their bags checked, finding a place to sit in the overcrowded cafeteria, or shoving past an entire group of people just standing … dead … center … in the hallway … blocking everyone … while they engage in casual chitter-chatter – space is not something that is taken for granted here.
It's very easy for a new freshman to get intimidated by the sheer number of people hanging around in their own circle of friends, but you soon learn battle tactics to get you to your classes most efficiently. If the North Atlanta were a body, the heart would be located at the front office, the cafeteria would be the stomach, the numerous crowds of people standing in everyone's way would be the numerous blood clots, and the bag checking lane for the buses the throat. Clearly, the bag checking process is constantly choking on something.
Or maybe it's a particularly difficult level of a video game, jumping past the rolling water bottles discarded from failed bottle flipping and dodging the obstacles keeping you from your target destination. Or maybe you're a teacher and it's a rather tiresome level of Candy Crush to get rid of all the doting teenagers and banish them to their classrooms. But they just keep coming and blocking the way. "At least have manners if you're going to do it," snorted sophomore Oluwalola Oresegun.
However, if you compare North Atlanta to a body, then it's a body beating with life, despite the blood clots developing in various places. If it's a video game, then it's a rather fun and challenging one. And if you're just a normal sleep deprived teenager just trying to get the day over with, I wish you the best of luck.