Big Player: Antonio Anderson Is The Diamond Dubs Newest Star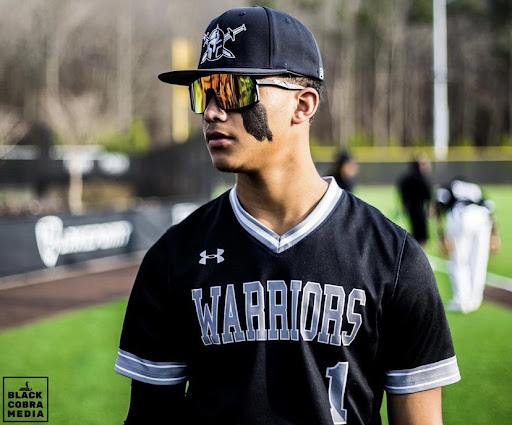 There's a new guy in town and he's making a statement. Antonio Anderson is North Atlanta's newest baseball ace, middle infielder, and all-around five-tool player. While a change of scenery would cause an adjustment period for some, Anderson feels right at home when he's in the North Atlanta dugout and out on the field. This year, switch-hitting middle-infielder batted a team-high .462 average with an OPS of 1.412 from the plate and had a team-high ERA of 0.31 in just over 22-innings pitched. 
While the advanced statistics love Anderson, the eye-test reveals an even deeper, more impactful player. His presence alone draws attention and his play speaks for itself. His towering home runs and Javier Baez-like swagger at second base are a sight to behold. Anderson is regarded as a Top 50 player in the nation for the class of 2023, but he has his eyes set on so much more. "I think I'm better than my rankings show. I'm looking to be put in the top 3 for my class, but more importantly, I'm looking to bring a state title to North Atlanta," Anderson said. 
Anderson made the move to North Atlanta from Tri-Cities High School in the fall, a transfer mainly rooted in the star player's desire to play in a more competitive program. Since joining the Dubs' already-deep roster, the team has improved its 16-13 record in the 2020-21 season to an impressive 18-11 record and a Regional-Runner Up title to their name. After a couple of touch losses, Anderson and the rest of the team turned their season around. Reaching double-digits in 16 total games, a no-hitter, and a 13-5 regional record were staple moments for the team. "It's not how you start, it's how you finish," he said. "The chemistry improved so much from our first few weeks. We started bonding and now we are all family." 
Anderson is considered to be a total team-player by teammates and coaches alike. Whether he's on the field, at the plate, or in the dugout, Anderson has become the ultimate leader in just his short time as a Warrior thus far. His fellow teammates say that having such a stellar and positively outspoken leader among them has added greatly to the team's culture. "When you play with a guy like 'Tone, you just want to be better and you want to go just as hard as he does," said senior first baseman Zachary Turner. "And just watching this kid play is a thrill in its own way." 
Anderson is committed to Georgia Tech to further his playing career after his time at North Atlanta but it's clear that the major leagues are calling. No "road to the show" is the same and it's not uncommon for a player of Anderson's caliber to be drafted straight out of high school. Despite having the future on his mind and interest from both professional and collegiate programs, Anderson is fully committed to the Dubs. His desire to win and play at a high level is contagious. There's a lot that he wants to accomplish, including APS Player of the Year which he was recently nominated for, and add to his already-strong resume, but the sky is truly the limit for the 5-tool player. The 6 foot 3 inch-tall junior is a must-watch prospect, so come see him and the Dubs play before he takes his next big step toward the majors!
Leave a Comment