Ben Adams' No-hitter Electrified the Diamond Dubs' Season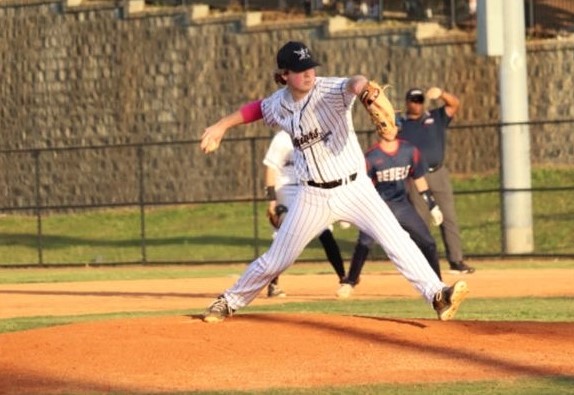 A no-hitter is one of baseball's most elite feats. It's a culmination of elite pitch placement, discipline, and of course an error-free defensive performance by all nine fielders. The no-hitter, or "No-No," as baseball fanatics call it, doesn't come by all that often, sitting at a likelihood of 1 in 8,000 according to analysts. While near-perfect pitching performances are few and far between, North Atlanta's varsity ace Ben Adams was dominant on the bump against South Cobb, throwing nine strikeouts over the course of his 7-inning outing.
Coming off a loss in the first leg of a double-header, few would have expected this level of performance from Adams and the Dubs, but the team rebounded from the 7-3 defeat in electrifying fashion. Adams was commanding from the hill, and it was clear he had his stuff going early. The changeup, fastball, and slider-throwing ace was dealing, but for him it started out as just another day at the office. When asked about his performance, Adams said, "I knew I was pitching pretty well, but it wasn't until the 5th when I felt I really hit my stride. The last two innings were when I realized what was on the line."
The pressure, which would be too much for most, was nothing for Adams. His nine strikeouts in the game, a team high, came by the way of his devastating fastball. According to junior Duskin Balch, Adams' battery behind the dish, Adams only threw four off-speed pitches (changeups and sliders) the entire game. Balch and Adams have been playing ball together for years, so they found it fitting that they were the pitcher-catcher duo to such a rare feat. "He made it easy for me. I would give him the sign and I just knew the ball was going to find the glove." said Balch. Similarly Adams gave partial credit to Balch when he said, "He set me up for success. From the calls to the framing, he helped make it possible."
The no-hitter seemed to change the atmosphere in the dugout and in the school. North Atlanta baseball has always been a legitimate and popular sport at the school, but Adams' performance really put the team on the map and turned a lot of heads. While it was just one game, it helped the Dubs create momentum that they carried throughout the rest of the regular season, resulting in a playoff appearance after finishing as runners-up in a cutthroat region. A performance and accomplishment of this magnitude should not be forgotten and should act as a motivator for the Warriors to play at the highest level as we approach the postseason.
Leave a Comment