Class of 2014 Claims Bright Future In Graduation Ceremony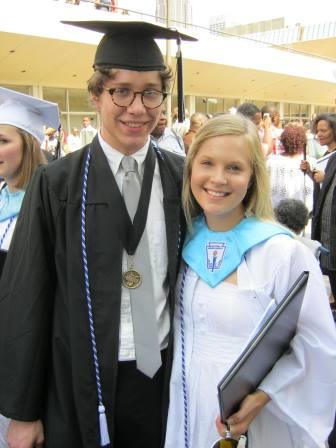 Whether bound for college or for adventuresome paths still not known to themselves, the members of the Warriors of the Class of 2014 will remain forever bound to the school of their academic provenance: North Atlanta High School.
The Class of 2014, North Atlanta's 23rd graduating class and the first ever to graduate as inhabitants of the school's new campus on Northside Parkway, took its place in history during a graduation ceremony held on Sunday, May 25, in the Boisfeuillet Jones Atlanta Civic Center. More than 260 seniors walked across the stage to receive their diplomas from Principal Gene Taylor along with hearty congratulations from Atlanta Public Schools Superintendent Erroll Davis and members of the APS board of education.
Every member of the most recent graduating class is slated to attend college. In total, the class received more than $10 million in grants and scholarships for post-secondary academic studies. Among the colleges where students were accepted are University of Georgia, Georgia Tech, Georgia State University, Morehouse College, Emory University, Oberlin College, Boston University, Penn State University, University of Virginia, Clark Atlanta University, University of Michigan, Temple University, Tulane University, University of Alabama, Auburn University, Ohio State University, University of Minnesota, University of San Francisco, Washington and Lee University, University of California-Berkeley, Dartmouth College, and Rice University.
Noteworthy distinction was earned by Emma Pettersen, the AJC Cup winner, and Mary Harris, a Gates Millennium Scholarship recipient. Pettersen is attending Syracuse University on a full, four-year Posse Foundation scholarship, and Harris is attending Agnes Scott College on her full, four-year Gates scholarship. Another noteworthy scholarship recipient is William McCollum, who was accepted by both the U.S. Naval Academy and the U.S. Air Force Academy, the Colorado Springs service academic where he will attend.
The Class of 2014 valedictorian, the student with the highest grade point average, was Margaret Neel, who will attend Wellesley College, in Wellesley, Mass. Bailey Palmer, class salutatorian, who had the second highest grade point average, will attend the University of Georgia on a four-year scholarship as a Ramsey Scholar.
"This year's class is marked by hard work, significant academic distinction and plenty of talent," said Taylor. "We are sad to see them go, but we are confident about each student's ability to positively shape his or her future, and to positively impact our world."