FBLA at NAHS: These Dubs Mean Business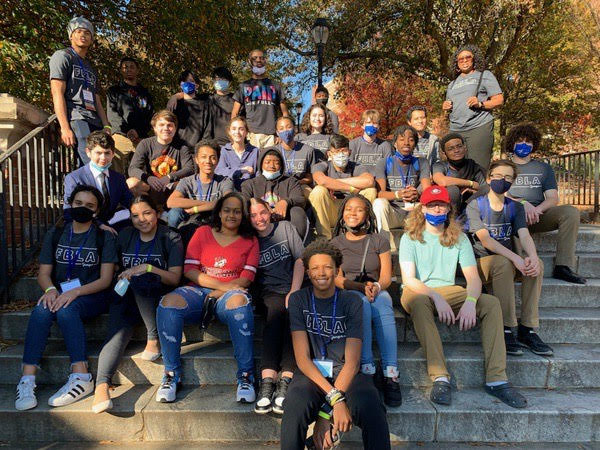 On the first Wednesday of every month, some of the brightest business minds at North Atlanta meet to learn about business education and leadership. These dedicated Dubs are members of the Future Business Leaders of America (FBLA) club. Members of the club work to become business leaders in their communities following the motto: Service, Education, and Progress.
Boasting over 25,000 members, the state of Georgia has the largest FBLA chapter in the nation, with North Atlanta members adding to the talented bunch. Starting the year with an ice cream social, current FBLA members were able to meet new members and learn more about one another. For new members like junior Chelsey Hodge, this was an opportunity to learn about the club, register for events, and get a glimpse of what's to come. "With this being my first year in FBLA, I was nervous," she said. "But after the ice cream social, I'm super excited to be a part of FBLA!"
The next big event that FBLA members are preparing for is the Fall Motivational Rally, a much anticipated trip to Six Flags in October. At the rally, members will learn about how to become better leaders and become better at engaging with others, followed by a fun day of roller coaster rides and sugary snacks. Returning members like junior Lydia Dukes praise the event, which gives them skills for competitive events and future endeavors. "I'm looking forward to the Fall Motivational Rally," she said. "I hope that this year I'm able to make a bigger impact in the club." 
Though thrilling, the Fall Motivational Rally isn't the only thing members are excited about in terms of upcoming events. Another event to look forward to is the Fall Leadership Conference in Athens on November 16. At this rigorous event, students will be challenged to use the skills they already have while also increasing their knowledge about business. FBLA's overall goal with these meetings and events is to better the school as a whole. Junior Jackson Young, a returning officer, is eager to further his business knowledge at all of these upcoming events. "FBLA is always a fun time and we have great teachers running the club," he said. "This year, I'm aiming to contribute more ideas to the club."   
With guidance from Ms. Lizcano, Ms. Bowen, Ms. Randolph, Ms. Edwards, and Ms. Moore, the club continues to empower members to pursue their dreams and learn more about a business career. The FBLA Dubs can't wait to dive into the world of business and showcase their knowledge and skills.
Leave a Comment