A Leading Warrior: Karen Palacios-Echeverria Wins Legion of Valor Award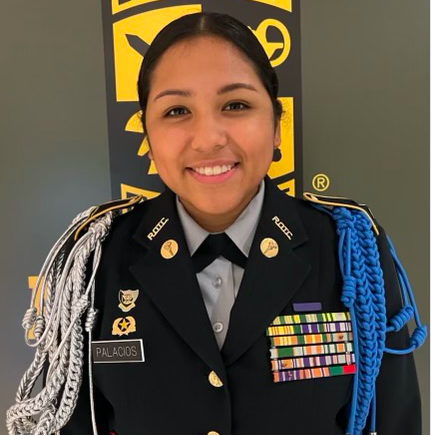 "Leadership, character, and community service" are the three fundamentals taught to all JROTC Cadets during their time in the program. North Atlanta Senior Battalion Commander Karen Palacios-Echeverria has made those values her top priority during the past four years of high school. Because of her distinguished service and commitment to fulfilling the honor of a JROTC Cadet, she claimed the national Legion of Valor award, the highest award available for a cadet.
Before coming to North Atlanta, Palacios had little idea where the JROTC program would take her. Now, she spends the majority of her time in JROTC-related activities, spending at least three hours a week serving her school. Through the program, she has participated in eye-opening travel, having visited Naval bases in Pensacola, Florida, and Fort Benning in Columbus, Georgia. Palacios feels that being a Cadet has made her confident in everyday life, drastically advancing her communication and technical skills. "Through JROTC, I've met so many amazing people and have been granted opportunities that I never thought were available to me before pursuing a professional career," said Palacios. "The rigor and expected level of commitment are more than worth it, as I know I am actively working towards a professional career while growing as a person."
Winning the Legion of Valor was a well-earned accomplishment in Palacios' JROTC career. Palacios is currently the only Cadet in Georgia to win the award, distinguishing her on a national level. The nomination process began in April when Colonel Lynnette Minnick submitted her achievements for review and culminated within the past month upon receiving news of her win. "It was the commitment and dedication that I had for the program that led me to win the award," she said. "I wouldn't change anything about my journey, and I am incredibly grateful for this opportunity."
After high school, Palacios plans to further her career in the US Navy. Her past four years in the program have been nothing short of successful, with her award topping a running list of achievements. Dubs lets congratulate Karen Palacios for her distinguished commitment to our JROTC! What a winning Warrior!
Leave a Comment