Blast From The Past: A Disney Channel Halloween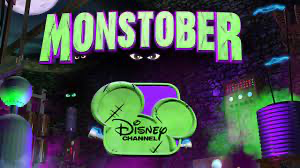 Per tradition, each year, as Halloween rolls around, Disney Channel's Monstober rises from the dead, and its relentless fans follow suit. Throughout the childhood of North Atlanta students, a beloved brew of witches, ghosts, monsters, and vampires have made their debut in classics such as Jessie, Ant Farm, Good Luck Charlie, and more. Anticipation for Halloween should not be limited to costumes and candy. Just like pumpkin patches, trick-or-treating, and candy sorting, Monstober is an essential part of the spooky season.
Disney Channel Dubs are no strangers to film favorites like Halloweentown, Girl vs. Monster, Hocus Pocus, and spooky specialty episodes. The mystical mishaps between worlds in Halloweentown and the monster-hunting teens in Girl vs. Monster have collected masses of devoted fans who return each year to watch once again. The Dubs are not afraid to admit that re-watching these shows and movies is their favorite part of the haunted holiday season. "I can't even begin to describe the joy that watching Monstober re-runs gives me," said junior Halle Pray.
All Monstober staples hold a special place in the heart of each teenage Disney Channel fan. Episodes and movies bring about a nostalgic return of childhood memories, where once upon a time, there existed candy-crazed kids resorting to Disney Channel for horror rather than R-rated movies and haunted houses. Disney Channel may be designed for younger audiences; however, its content remains appreciated by early 2000s children who grew up with its collection of shows. "After I finished trick or treating, I would always turn on Halloweentown and sort my candy," said sophomore Sophie Hallet. 
Monstober streaming came to a devastating end in 2016, requiring the Dubs to now access exclusive screening services such as Disney Plus to re-live their spooktacular days. Nonetheless, the subscription is worth it all year round, especially during the holidays. While these shows are no longer rolling, the Dubs are never too old to return to their Disney Channel roots. Have a fabBOOlous Halloween!
Leave a Comment