Meet the Diamond Dubs' Newest Three-Headed Monster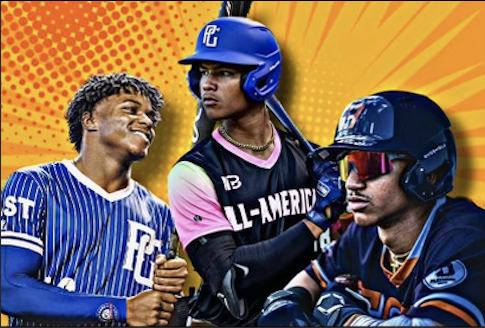 The 2022–23 North Atlanta Baseball Team is ready to make some noise. Last year's playoff team was stacked from the backstop to the bullpen, but this year the team looks even better, with new talent joining the squad. Amidst preseason workouts and practices for the upcoming season, North Atlanta's elite three-headed monster has emerged. Division-I (D1) commits, Antonio Anderson, Isaiah Drake, and Ira Jefferies-Harris, sit atop a dangerous Warriors lineup. 
Antonio "Tone" Anderson is a man who needs no introduction. The 6'3, 205-pound, freak athlete led the Dubs to a playoff berth in his first season as a Warrior. The switch-hitting shortstop is committed to Georgia Tech but is most likely MLB-bound in this year's draft. He is rated a Perfect Game Ten, a rating only earned by the country's top high school prospects. Anderson batted an impressive .462 with a team-high six home runs. On the mound, he was untouchable with an earned run average of 0.31 in seven appearances. "This is the best team North Atlanta has assembled in a long time. I think we will turn a lot of heads this year," said Anderson.
Fellow Tech commit Isaiah Drake is one of the Dubs' newest additions, transferring this year from Westlake High School, a former region rival. He stands at 6 feet, 180 pounds, and also has a perfect game score of 10. In 35 Perfect Game appearances, Drake hit an astounding .465 with 24 stolen bases. The speedy outfielder has sneaky power from the left side and is electric out in center field. "I'm excited to play with Isiah. He's going to be an incredibly valuable piece for us this year," said designated hitter Mac Perno.
The Warriors' newest star is Ira Jefferies-Harris, who is transferring from Hillgrove High School in Marietta. He is rated a Perfect Game Nine and is a strong 6'1,180 pounds. He is committed to the University of Missouri, another high-level D1 baseball program. The "Do-It-All" infielder was clocked at throwing 80 mph across the diamond and running a 6.99 sixty-yard dash. Jefferies-Harris' combination of arm strength and speed will be a huge asset for the team. The 2024 underclassmen All-American will be an instant impact player for the Dubs. "He is an elite player and raises our ceiling that much more," said pitcher Ben Adams.
This is the first Warriors baseball team in recent memory to have no real weaknesses. On the mound, the Dubs feature North Atlanta's all-time wins leader Gunnar Plante and all-region first team reliever Mac Reynolds. Offensively the Warriors have the perfect mix of speed and power, as evident by the season debut homeruns from both Anderson and Drake, the Dubs are going to be a threat this spring. Paired with North Atlanta veterans, and Washington and Lee commits, Sims Delong and Jonathan French, the Warriors will be a force all season long. The Dubs have their eyes on state and no one is going to get in their way. 
Leave a Comment