Budgeting Matters: Students Express Frustration at North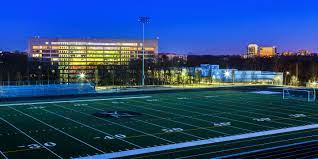 As a public school, North Atlanta High School is funded by the taxes paid by the public. A noticeable outlier, NAHS draws students from Buckhead, a wealthier area of Atlanta, which allows the school to gain access to invaluable resources. The International Baccalaureate Program, contemporary technology, and pathway programs that allow students to reach their full potential are just a few of the features that North Atlanta offers. As of late, students have expressed an interest in the allocation of the remaining resources. The observation: the school lacks the sanitation facilities and staff necessary to uphold the cleanliness of eleven floors. 
As a student-athlete, junior Maggie Andreski is a vocal advocate for the sustenance of facilities at North Atlanta. She observes the lack of equipment provided for certain teams, as well as the gaping hole that is the absence of a stadium. The recognition that these issues are large is understood by the student body, the more prominent case comes to fruition when the lack of sanitation facilities is conveyed by students. "It is one thing that we dont have a stadium, but we need functional bathrooms. It's embarrassing when other teams come to play us and we cannot even provide them with bathrooms," Andreski said, "When something breaks, it is indefinetly broken."
As students continue to recognize the shortcomings of the North, Principle Douglass works tirelessly to advocate for the wellbeing of the school community. The monetary aspect is not the issue in terms of janitorial shortfall as the staff is contracted by the district of Atlanta Public Schools. Additionally, the custodial staff is geographically difficult to fulfill post-pandemic, especially considering the minimum wage compensation offered by the district and the contracting company. The building is an extremely tough one in terms of consistent maintenance, especially when tolerating students who seem to occasionally disregard its care altogether. "Just because one thing is getting upgraded does not mean that another is being neglected," Douglass said, "Certain things are guided by the district, whereas some are within our jurisdiction, this (janitorial staffing) is one of them."
One thing that is vital to the presentation of our school is the motivation of students to clean up after themselves, as well as lend a helping hand towards the overall maintenance of the building altogether. Keeping North Atlanta clean is a mutually beneficial incentive to change the way we think about the halls, and that is the only way in which the district will expand on the janitorial budget in the long run. "It may just be a source of pride, an intrinsic sort of motivation, but we must move to keep our building clean," Douglass said.
As quoted by Principal Douglass, the school being a source of pride is the penultimate goal to better staffing and higher quality facilities, facilitating a straightforward stint at NAHS and an even brighter tomorrow. 
Leave a Comment