Warrior Track Star Carl Murray: Racing Toward the Future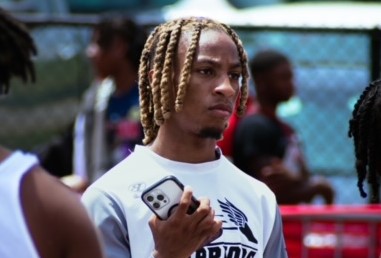 In a season of so many positives and stars on the North Atlanta Track and Field team, it's sometimes hard to choose who the team's "most valuable athlete is." But, naturally, the sprint events always stand out as must-watch for all track meets, because who doesn't like to watch the excitement of a blistering fast 100-meter dash? Due to this, it could be argued that Dubs senior sprinter Carl Murray is the brightest star in the Warrior track and field constellation.
So far this season, the talented sprinter – who competes in the 100m, 200m, 400m, and long jump events – is on track, (pun intended) to have another season. In the Westminster Varsity Meet #1, on February 22nd, 2023, Murray had two personal records in the 400m where he placed 3rd, as well as in the long jump where he placed first. He racked up an impressive top-three finish in every event that he participated in at this Atlanta-based meet.  And then – it's becoming a regular thing for Murray – he came in first at the Atlanta Public Schools meet on February 15, 2023, and established himself (yet again) as the district's most blazing sprinter. The impressive Murray said he's gratified to see all of his hard work come to fruition. "This season has been a roller coaster but I'm thankful for these opportunities," Murray said.
Dubs track and field coach, Bryce Doe thanks his lucky stars that he has a current team that continues to make waves and build a legacy for themselves. Murray isn't the only one who has continued to etch their name in Dubs history, athletes such as Kayleigh Stargell, Catherine Townsend, and Sumner Kirsch all hold school records, many of which were hard to break to begin with. Clearly, this class of runners is top tier and the future continues to look bright for the North Atlanta Running Warriors. "I am so proud of this team, the reason why we are so talented is because our team is so deep. There are so many athletes that step up to the plate and represent North Atlanta to the best of their ability," Doe said. but what does the future hold for Carl Murray?
Murray has yet to make a decision on where he is going to end up next year, likely because he has so many options! Murray has a variety of schools to choose from, including the University of South Carolina, Middle Tennessee, Boston College, and historically black Norfolk State, just to name a few. He clearly is on the right track.
Leave a Comment