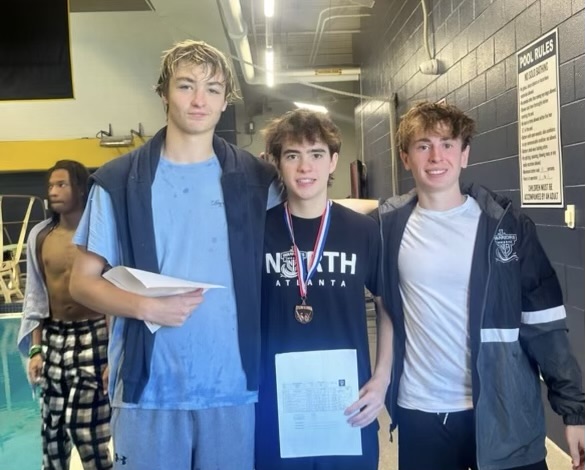 The North Atlanta Varsity Dive Team has started its season on a high of unprecedented growth. With a stellar turnout of over twenty divers during tryouts, the team has seen an exponential increase in interest. This season marks a historic milestone with the formation of a complete boys' team, consisting of five talented divers, led by Captain Preston Vassar. On the girls' side, a strong roster of ten includes standout freshmen Emmy Loft and Emma Leznik, promising a season filled with talent and potential.
The first meet against Dunwoody set the tone for the season, as the Warriors emerged victorious. Senior Hope Hallet secured the top spot, with Co-Captain Liv Granot closely following in second place, both qualifying for the state championship. Despite a predominantly fresh lineup, the boys' team showcased remarkable unity in the pool, setting the stage for an exciting season ahead. "Our success in the first meet is just the beginning," said Granot, "We're here to work hard and determined to get as many divers to state as possible."
The second meet against Chamblee further solidified the team's dominance. Granot claimed first place, showcasing her consistency as a top-tier diver. Senior Anna Samuelson's standout performance qualified her for a spot at the state championship, while Co-Captain Sara Roman, Hope Hallet, and Samuelson secured a clean sweep of second, third, and fourth places. "If we capitalize on the momentum we have going for us, I see a championship season ahead of us," said captain Preston Vassar, "But that does not happen if we don't keep showing up and working hard."
In just two meets and the Marist Invitational, three girls have already punched their tickets to the state championships – a feat achieved earlier in the season than ever before. The team is riding high on success, and there is anticipation for more victories to come. Practice has become the cornerstone of this success, with the team diligently honing their skills twice a week, once at Westminster and once at Georgia Tech. "The change in routine and the larger team size seems to be paying off, setting the stage for a season of dubs," said senior Lindsey Phillips.
As the Varsity Dive Team continues to make waves, one thing is clear – it's their year and nothing is stopping them from achieving their goals. Support your Water Warriors by following their Instagram (@nahs_dive) to keep up with their season of success.