Students Make Fast-Food Pit Stops Before School Begins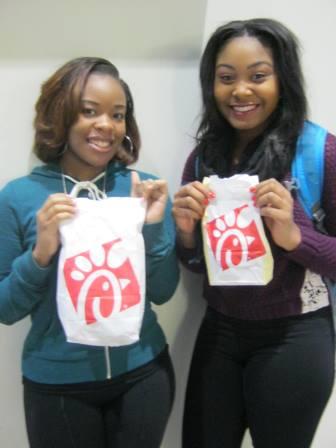 Many students love to grab an early breakfast from a fast food or java joint but here's an important question: Which before-school-hours destination is the most popular?
As I get up in the morning, usually tired and unable to focus, I get ready to take on the day. Here's the morning routine. Shower. (Check.) Brush my teeth. (Check.) Get dressed. (Check.) Last but certainly not least, it's time to completely undo the good I did in brushing my teeth. That means it's time to address my hunger pangs and spend precious amounts of my finite morning-commute time by going to a fast food joint for my morning breakfast. (Double check!)
North Atlanta students visit a variety of different food locations on the way to school. Some popular stops are Chick-fil-a, McDonalds and Starbucks. If students wake up really early and can allot plenty of time – or if they really don't care much about being late – they might make the decision to eat at Waffle House.
Starbucks is a fan favorite for many students and even I go there occasionally. Junior Amber Parkins is one who can't do without a stop to a nearby franchise of the Seattle-based coffee purveyor. "I love Starbucks," she said. "My go-to drinks are caramel macchiato, venti frappucino, or an iced black taste sweetened."
For those who are not java junkies, there are plenty of other options for food. Senior Wimberly Underwood is part of the early-morning breakfast crowd. "I grab food on the way to school whenever I can," she said.
It might be asked why Underwood doesn't just raid her fridge in the early-morning hours. "I would but the food in my house just doesn't satisfy me," she said.
Why do students go to restaurants instead of eating at home? Sophomore William Fowler said he wakes up too late to prepare himself breakfast. His habit is to go to Chick-fil-a and order the Chicken Biscuit #1 combo meal. He knows that noshing while at school presents its own hazards. "I know I'm not supposed to but I just find some way to eat it during class," he said.
Senior Nico Ferrari goes by fast food places and does so with both breakfast and his midday meal in mind. Whatever he doesn't finish in the morning he eats for his second meal of the day. His rationale for getting restaurant food is rooted in home-based realities. "To be honest, right now we don't have any food in the fridge," he said.
On a personal note, I must say that the chicken biscuits from Chick-fil-a are unbeatable. So, among North Atlanta students, what is the most popular place to go and what is most frequently ordered? In my informal survey, Chick-fil-a was the preferred choice and its always popular chicken biscuits are the preferred option. "The Chicken Biscuits from Chick-fil-a are always my first choice. Nothing says 'breakfast' like a 'healthy' chicken biscuit," said junior Dalton Watts.
Although it's the closest to our campus – with the nearest Chick-fil-a on Northside Parkway – not all of the students choose it as their breakfast. Junior Colin Jackson said he prefers sitting down at Waffle House rather than pursuing faster fast-food options. Surprisingly, in my survey, Waffle House was cited as more popular than old standby McDonald's.
Fast food restaurants aren't just prime places for ordering breakfast, but they also are suitable meet-up spots for students. For the very harried, drive-through lanes are optimum ways to save time in the morning.
Around here, grabbing a bite to eat before arriving at school is as much a part of North Atlanta as is cramming for tests. And if the price means having to wait in line for a late pass from Ms. Jackson, the pay-off seems worth it for the early-morning "just-gotta-have-my-chicken-biscuit" set.