Two North Atlanta Students Accepted Into U.S. Naval Academy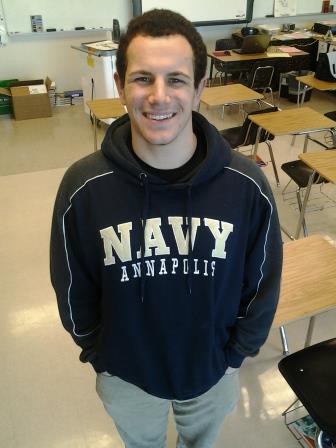 Thousands apply to the nation's prestigious military academies and only a select few get in. This year not one, but two North Atlanta seniors have been accepted to the United States Naval Academy. The two students are Charles "Chaz" Torres and Paul Spiegl. They have shed blood, sweat and IB-program- induced tears throughout their high school to ensure they could claim their promising futures among some of the country's brightest in the Class of 2015.
Being a Naval Academy student is physically and mentally challenging and it takes a well-rounded individual to be able to tackle both. To ensure any prospective student has what it takes, academy applicants go through a detailed application process. Only around 15 percent who apply to the school are accepted. For the preliminary application, students provide class rank and standardized test scores. Naval academy applicants have to receive a nomination from an official source which usually means a recommendation letter from a United States Senator or Congressman. Candidates also have to undergo a medical examination and a fitness assessment.
Torres said he pushed himself throughout high school in North Atlanta's International Baccalaureate (IB) program. He said his emotions ran high when he received his acceptance letter. "The first thing I felt was disbelief. I thought to myself 'Is this really happening?' he said.
His disbelief shifted to another feeling: a sense of deep personal accomplishment and mission. "Not only will I be serving the nation but I can see that all the hard work in high school has paid off," Torres said.
It is clear why Torres and Spiegl made it to such lofty academic heights. Thanks to their participation in sports and academic activities both were prepared for the challenges associated with getting into highly selective colleges. Torres is in National Honor Society and the Chinese Club, has been a key competitor in the water polo and swim teams, played in the school orchestra and has served as president of Model UN. Spiegl is in National Honor Society, the Chinese Club, Student Government Association, Model UN, ROTC, and served as president of the debate team. While juggling these time-consuming extra-curricular activities, both maintained a 4.0 GPA within the school's rigorous IB program.
Torres said the IB program made the difference for his college acceptance. "For the social sciences I especially appreciate how I've been prepared," he said. "My teachers have helped me understand not just the facts we've learned but also the wider implications these issues have on our society. And the one big thing I've learned as an IB student is time management."
Along with the Naval Academy, Torres was accepted into the Georgia Institute of Technology and the University of Georgia. Spiegl was accepted into the Naval Academy, Princeton University, University of North Carolina at Chapel Hill, University of Virginia, Georgia Tech, and University of Georgia.
Students like Torres and Spiegl exemplify the well-rounded student that North Atlanta seeks to develop. Their success stories are testament to their grit, determination and hard work. Their accomplishments are something all Warriors should note: When you get gut it out and strive for the top, you just might wind up one of the nation's most prestigious centers of higher education.