North Atlanta Women's Soccer Captures Second Consecutive Region Crown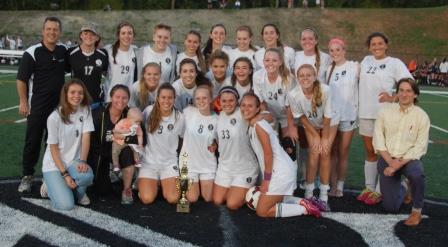 After a strong season in 2014, the North Atlanta women's soccer team further established itself in 2015 as a dominant force among competitive women's soccer programs in the state. This year's varsity squad won a region crown – the team's second in as many years – and advanced into the state final four playoff bracket for 5A programs.
The team's regular season record was 16-4 and in many games the Warriors scored more than six goals in trouncing opponents. Some highlights in the regular season was a 3-0 win over rival Grady High School, a 4-2 victory over Cambridge, and a 4-3 win over Columbus, a team that was ranked number 1 in the state among 5A programs at the date of the North Atlanta game.
It was an April 21 victory over River Ridge by the score of 4-0 that sealed the teams second consecutive region crown, this year in the Region 7-5A.
The Warriors advanced deep into the playoffs with wins over Heritage, Lagrange and a 3-1 vanquishing of Richmond Hill, a Savannah-area soccer power. The Warriors' storybook season ended on May 12 at Grady High School Stadium with a heartbreaking loss to Northgate. The two evenly matched teams played close all game. Northgate scored in the first half and the Warriors knotted up the game at 1-1 with a thrilling goal by freshman striker Lizzie Mayfield with only 30 seconds left in regulation play. After two overtime periods where neither team scored, the game was decided in Northgate's favor in penalty kicks.
Head coach Robert Bramlett said it was a tough way to end the year, but he said this year's play makes him optimistic about seasons to come for the Warriors. The team has 16 of 21 players returning and has a strong chance to win a state crown in the coming year. "With amount of talent and continuity we have, the sky's the limit," he said.
Assistant coaches for this year's team were Mike DeMatteo and Tara Doherty. Seniors on this year's squad were Carlie Perner, forward, Grayson Martin, forward-Midfield; Sofia Kurtz, centerback; Cecilia Vuicich, forward-midfield; and Kendall De Laria, midfield.    Martin and Perner served as team captains.
Claire Shea, a junior who played midfield-forward, spoke toward the progress seen in this year's campaign. "We've gotten better and better every year," she said. "Last year we found a real rhythm and this year we were able to build on that. And it's great because it seems like not only did we improve on the field this year, but we also became better friends."
While team coaches relied on his seniors for leadership, they also saw a significant infusion of young talent, a portent for good things to come for succeeding years of Warrior soccer. Exemplary underclassmen included freshmen Lizzie Mayfield, forward; Natalie Lau, midfielder; Ava Picken, midfielder; along with sophomores Bonnie Shea, centerback- rightback; Emily Martin, backfielders, Lauren Martin, midfielder; and Venyera Van Kesteren, goalie.
Top goal scorers for the team in 2015 were Shea, Mayfield and Emma Kurtz, midfield-forward.
Bramlett said he's planning on bigger things in the season to come. But he said he won't forget the strong play and stronger team chemistry that marked the 2015 Warrior team. "The girls are a joy to coach. They are pleasant, responsive and collectively interested in improving. I wouldn't change a thing about them, except that they need to learn to enjoy fitness days more," he said.