Warriors Men's Golf Season Ends Strong in State Tourney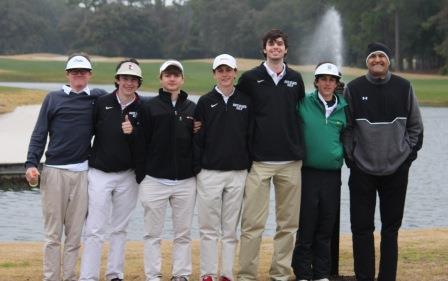 The North Atlanta Warrior men's golf team had a stellar season, marked by competitive play in its region and a 10 place in a competitive state tournament.
Over the course of a season, the Warriors played in eight tournaments, finishing second three times, third three times and have five wins with no losses in match play.
Head coach Kerry Sarden said the season was proof about the vitality of the school's golf program. "We went that much further this year and you could feel things building all season long," he said.
Team play was marked by consistent results. The Warriors played in seven tournaments, events that usually had more than 30 teams participating. The team finished second three times, third three times and fourth in one tournament. In match play, the team went undefeated, notching a 5 win 0 loss record. The team finished fourth in the 7-AAAAA region.
Sarden cited particularly strong play by team members Winston and Will Meshad, Andrew Taylor and Jackson Perkins. Team captains this year were Perkins and Winston Meshad. An impressive team on the course has also been impressive in the classroom and the team's collective 3.5 GPA is testament to this fact.
The team played well enough in a sectional tournament on May 4 to quality for the state tournament, a particularly impressive feat given the youth of the team. The team's starting six is comprised of two juniors, three sophomores and one freshman.
The state tournament was held on May 18 at the Country Club of Columbus and the Warriors finished eighth. Team members who played were Jac Mitnitsky, Kyle Kushel, Mac Snavely, Joshua Hollis along with Winston and Will Meshad, Taylor and Perkins.
Given the strong season and the team's comparative youth, Sarden has reason to be confident about the program's future. "It's been a pleasure to coach this team. They are all very self-motivated and always looking to improve their games," he said.