North Atlanta Graduation Marked by Pomp and Happy Circumstance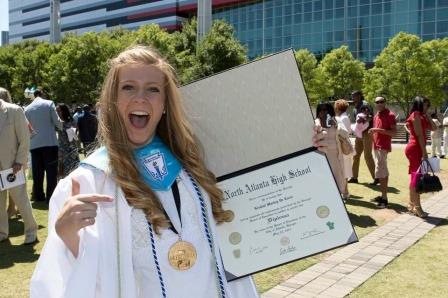 Graduation is the culmination of four years of high school, the end-point of 12 years of a lengthy educational journey, one that takes a student from a small child to young adulthood. And for the more than 2,000 people crowded in an expansive hall in the Georgia World Congress Center on Saturday, May 23, the North Atlanta High School graduation ceremony was cause for applause, cheers, tears and raucous applause as North Atlanta celebrated and said goodbye to the Class of 2015, the school's 25th graduating class.
Graduate Sara Islas spoke for so many of her Class of 2015 peers as she reveled in the gravity of a long-envisioned day. "It really hasn't hit me yet. It feels like a whole new life chapter," she said. "I'm nervous because I don't know exactly what to expect. But I'm also excited. This is what we've all worked for and now that day is here."
The Class of 2015 was 303 students strong. With pride and smiles and accompanied by Edward Edgar's "Pomp and Circumstance," class members attending the graduation ceremony filed on to a stage and filled a center-stage bleacher. Upon being seated, the graduates' black and white gowns spelled out "NA," the initials of their alma mater. Atlanta Public Schools Superintendent Meria Carstarphen, APS board member Nancy Meister and other board members were on hand to congratulate the graduates and certify their diplomas. North Atlanta Principal Curtis Douglass read the long list of accomplishments that the seniors achieved both individually and collectively.
The class has in its ranks three Posse Scholars (Max Hayes, Harry Pitsikoulis, Maegan Stafford), three students who were recognized by the National Merit Scholarship Corporation (Kelton Pruett, Tai Lewis, Andrea Thomsen) a Gates Millennium Scholar (Alexis Cohen) and two Naval Academy appointees (Paul Spiegl, Charles Torres). The class' Principal's Cup winner was Vincent Latigue. Warrior Scholar-Athlete winner was Sofia Kurtz. The AJC Cup Award recipient was Paul Spiegl. The class valedictorian, the student with the highest cumulative grade point average, was Kendall De Laria. The class salutatorian, the student with the second highest GPA, was Robert Leon. Both De Laria and Leon will attend Georgia Tech.
Also recognized at the ceremony was Anna Gustafson who was named Star Student, the North Atlanta senior with the highest cumulative score on the SAT. Gustafson will attend either the University of Hong Kong or University of St. Andrews in Scotland. She nominated Andre Regan, broadcasting program director, as this year's Star Teacher.
More than 10 members of the Class of 2015 will serve in branches of the United States armed forces. Collectively, the class was awarded more than $10 million in grants and scholarships to attend colleges across the country. Members of the class were accepted to Princeton, Yale, Boston College, Duke, Tulane, Vanderbilt, Brandeis University, University of Georgia, Georgia Tech, Georgia State, Morehouse College, Spellman College, Emory University, University of California at Los Angeles, University of Arizona, Babson College, Howard University, University of South Carolina, University of Alabama, University of Indiana, University of North Carolina-Chapel Hill and Baylor University among other colleges.
During the graduation ceremony Reginald Wilder was posthumously awarded a degree. A member of the 2015 Class, Wilder passed away during the spring semester.
"We are sad to see such a high-achieving group leave us but we're glad to know that each graduate will make his or her mark," said Principal Douglass. "They are gone but they forever are a part of us as Warriors."