Warriors Boys Track Team Takes Second Place in APS Championships Meet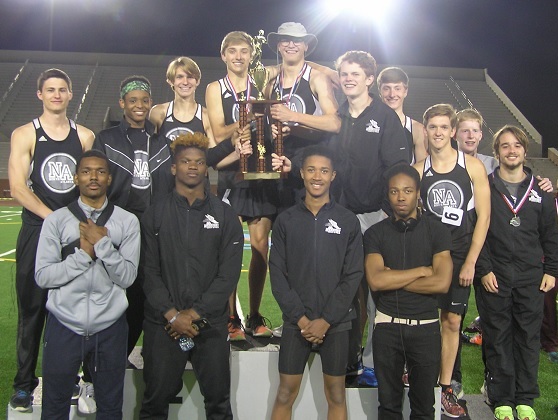 The best boys team finish in 18 years. That's the achievement recently notched by a dedicated cohort of North Atlanta track athletes. The Warrior boys track team finished second place behind Grady High School at the APS track championships held March 26 and 28 at Lakewood Stadium.
The team's strong showing was marked by performances posted by junior Jackson Pearce who won both the 800 and 1600 meter runs and who tied for best runner of the meet. Last year at the meet, Pearce won both the 1600 and 3200 meter runs. Other strong performances were notched by senior Graham Palmer, who took second in the 110 and 300 meter hurdles, and junior Guille Valls, who tied for second in the pole vault.
Longtime Warrior track coach George Sanderlin praised his team's performance and heart. "This is a group of young men who have been willing to put in a lot of hard work and it's really starting to pay off," he said.
At the beginning of the track season, the team set its sights on a second place finish at the meet so placing so high represented an accomplished mission.
Along with Pearce and Palmer, other senior athletes on the boys team who scored in the APS Championships are Hunter Riggall, 1600 meter run; Jack Tribou, 3200 meter run; John Self, 300 meter hurdles; Julious Washington, 100 and 400 meter relays;  Carson Veale, 110 meter hurdles; and Akaydie Welch,  4 x 100 meter relay .
The seniors, who've been the backbone of the Warrior track team, understand that team cohesiveness carried the day in the APS Championships. "We've all been here together for a long time," said Palmer. "There's a lot of support for each other. Everyone is dedicated to their event, to the team, and to being Warriors."
The Warrior boys and girls track teams compete next in the 5A Region 7 meet on April 16 and 21 in Dalton.