Adrian Ford: North Atlanta's Piano Man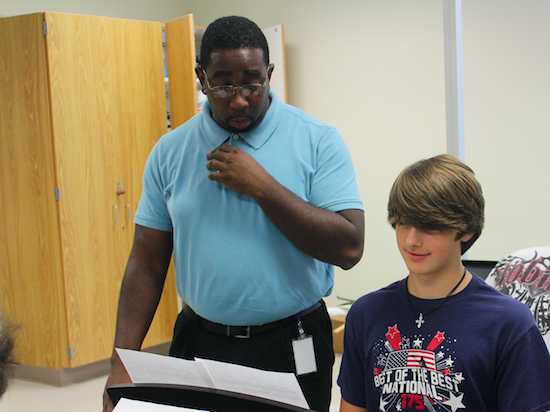 When you ask a third grader what they want to do when they grow up, a common response is "I want to be an astronaut!" For teacher Adrian Ford, he had a more realistic response – he wanted to be a piano teacher.
His third grade teacher was his inspiration and since then he has accomplished much in his field. At the age of 11 he started playing the piano with dreams of one day becoming a concert performer. Having a difficult childhood made piano all the more meaningful to Mr. Ford, "My youthful life wasn't an easy life to come through but piano made it bearable," he said.
Before college, Ford wanted to be a concert pianist performing on professional stages, but decided to have his short-term goal being a teacher and letting his dream of being on the ''big stage" be more of a long-term goal. He went on to attend Morris Brown College to receive a bachelors in music and earned a masters in Arts and Music Education at Liberty University. Despite his academic-musical pursuits, he never gave up on his dream of becoming a performer. "I love music and my biggest desire is always to share it with others," he said.
Before becoming a teacher, Ford got himself into every musical opportunity he could from church and religious settings to bands and choruses. He traveled the South performing and training church musicians. In 2011, Ford decided to become a teacher and accomplish a dream he had since third grade. "I teach to give students an opportunity I didn't have through my high school experience," he said.
He's been teaching for five years and prior to coming to North Atlanta he was at Riverdale Middle School teaching chorus.
Throughout his life, Ford has long felt that piano is his rewarding endeavor. "It has done more for me than just listening to the radio," he said.
For many, piano is just another instrument but it was so much more than that to Ford. Piano has given him a sense of direction and has allowed him to have a realistic vision of goals in music. And now he's making it his business to pass on the love of the instrument to his students at North Atlanta.
View Comments (2)