An Altogether Compelling and Disturbing "Mother!"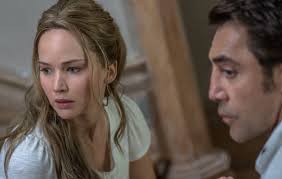 Hang on for a minute...we're trying to find some more stories you might like.
Few wide release movies in the last decade have been as disturbing or surreal as the recently released film "Mother!" Directed by auteur filmmaker Darren Aronofsky, the film follows the lives of a recently married couple (Jennifer Lawrence and Javier Bardem) who confront a steady stream of guests who continuosly arrive at their house and the horrors that these house guests bring with them
I think it's worth noting up front that "Mother!" is an incredibly surreal and disturbing movie, one with an extremely unconventional style and violence that borders on tasteless exploitation. And this holds true for the film's last 10 minutes which takes the weirdness to 11. So those who don't really enjoy vaguely — or overtly — freaky art films should probably pass on this one.
Nonetheless the film is quite competently made. The cinematography is gorgeous, creating a beautiful and often times horrifying setting. The movie also makes great use of sound as each sound effect has a certain weight to it that you don't find in other movies. It all builds to creating an overall uneasy atmosphere that is genuinely unnerving at times.
The story itself is as strange and surreal as the rest of the film and includes numerous metaphors and allegories. Unfortunately the meaning of the film can be a bit heavy handed at times with the film drawing heavily biblical imagery to the point where it could even be considered a direct a retelling in some respects. It also leans rather heavily on messages about environmentalism and these moments can oftentimes feel a bit preachy.  But nonetheless the experience of watching the film is something wholly unique and it's never truly boring, even it feels a bit unsubtle for the type of high art that the director is clearly going for.
In terms of performances the acting is pretty great across the board with the standouts definitely being Javier Bardem's role as the washed up author and co lead role. The only weak link is really Jennifer Lawrence's performance as the titular character of "Mother!" It's not that her performance is partially bad, per se, in fact it's quite good by  most movies standards. But her performance simply fails to reach the heights of the rest of the cast.
Overall "Mother!" Is a very good movie on a technical level sporting great performances, cinematography and direction. However it is brought down to a degree by its heavy handed and somewhat predictable story. But still for those who see it will not be an experience they will soon forget. Wire movie rating: 8.5 out of 10 stars.