Shooting Tragedy in Las Vegas Reopens Gun Control Debate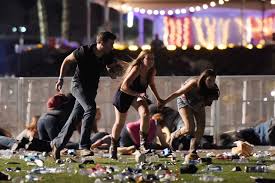 Hang on for a minute...we're trying to find some more stories you might like.
On Oct. 1 Las Vegas suffered a huge tragedy after a gunman fired on a large concert-going crowd at the Route 91 Harvest festival. This is one of the many attacks in the United States that has happened over the years, and yet another that has opened up the controversies associated with gun laws in the United States.
It was around 10 p.m. when the shooter, later named as Stephen Paddock, opened fire on the crowd. The shooter was able to break a window in his room in the Mandalay Bay Resort and Hotel and began firing. Country singer Jason Aldean, who was performing at the time, swiftly ran off of the stage to escape the flying bullets. There were approximately 22,000 people at the music festival. The total killed was 58 and more than 500 were injured, making Paddock's act the worst mass killing in U.S. history.
Many celebrities are paying tribute to all of the people whose lives were lost. Celebrities, including Aldean, showed their support for the victims on social media. People in Nevada have also been donating blood for the hundreds of people that were injured in the attack. The day after the attack people stood in lines for hours to donate blood. The people that could not give blood donated food, water, and other things for the people that were waiting.
Paddock had easy access to many guns and was able to bring all of these weapons into his Mandalay Bay room after he checked in.
The United States was deeply affected by this tragedy but it also helped bring to light one of the problems the United States is facing. The tragedy once more tell us that too many guns and too many psychotic people is a bad combination for everyone.