Dominant SEC Places Two Teams Into College Football Playoffs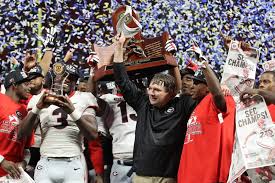 The SEC championship happened this past weekend and it was anything but expected for most of the viewers. The game pitted Georgia Bulldogs from the SEC East against the Auburn Tigers from the West. This was a rematch from a previous game when Auburn dominated the Bulldogs 40-17 on their home turf at Jordan-Hare Stadium when Georgia was ranked the #1 team in the country. This game was a huge shock to most and many people did not see Auburn coming out on top. This craziness in the SEC has lasted more than just one week, though.
To get into the championship for Georgia was easy, as the team clinched the East after a win against South Carolina in week 10. The road was not nearly as easy for Auburn. The team suffered a costly upset and comeback loss to LSU midway into the season and the team's hopes at the championship seemed to be shot down. Instead the team rallied over the course of five weeks to clinch its spot by beating Arkansas, Texas A&M, a #1 ranked Georgia and #1 ranked Alabama. The much-hyped team made it to the championship game in Atlanta's Mercedes-Benz Stadium and was expected to rout a Georgia team it had already thrashed.  
Auburn came out strong in the first drive of the game with a 75 yard, 10 play touchdown drive. But after that first drive though, it was all UGA. In the next drives for Auburn all that they did was punt and fumble the football twice, both being recovered by Georgia's Roquan Smith (Dick Butkus Award Winner). The Bulldogs finished the game with two touchdowns, both thrown by freshman quarterback Jake Fromm, and two field goals by kicker Rodrigo Blankenship. After the second touchdown by the Bulldogs they decided to go for a two-point conversion, and it was successful with a back shoulder pass to junior wide receiver Terry Godwin. Georgia finally sealed the deal with a 64 yard touchdown run by freshman running back D'Andre Swift.
With this win, Georgia got a bid into the 2017-18 CFB Playoff and will play the #2 ranked Oklahoma Sooners. To some people's surprise, Alabama got the #4 seed over Ohio State and others even after their loss in the last week to Auburn. This is the first time in the CFB Playoff era that there is two teams from the same conference in the playoff. This is all complete pandamonium for the people in the SEC, and fans of the SEC are hoping that 50 percent chance to win the National Championship will come true.