STACK Workouts Help Prepare Warriors for the Spring Season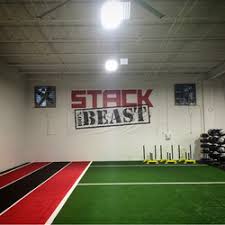 Hang on for a minute...we're trying to find some more stories you might like.
Throughout the fall, many of North Atlanta's student athletes have spent time exercising with the help of STACK Sports Performance and Therapy. STACK offers equipment, trainers and programs, all of which lets players from Warriors spring teams develop for their upcoming seasons.
Through STACK, players from the baseball and boys and girls lacrosse teams have been able to participate in organized workouts twice a week. Ranging from sprints to weight lifting, the workouts have helped many of the Warriors, like senior lacrosse player Mariel Walts, improve their strength and agility. "We start by doing stretches and sprints to warm up our bodies," Walts said. "Then we move into interval training for speed and use weights to exercise specific body parts, like arms and legs."
Since baseball and lacrosse require many different skills, STACK workouts consist of exercises that improve overall fitness. The high-caliber trainers then apply these exercises to different situations in a particular, which has allowed for junior lacrosse player Graham Humphreys and his fellow student athletes to get the most out of the workouts. "Most of the workouts are general and translate over across multiple sports, so the coaches relate them back to areas of each individual sport,"  Humphreys said.
STACK trainers lead the workouts. For the baseball team, a trainer came to North Atlanta and the workouts took place in the weight room. Boys and girls lacrosse players went to the STACK facility on Collier Road near the Cross Creek neighborhood.
By doing these workouts across the course of the season, the Warriors are staying in shape and improving their physical abilities. Junior baseball player Marc Church sees great benefits of the workouts and he said he anticipates that these will have a large impact on the upcoming season. "Not only are we becoming faster and stronger but we are also bonding and building team chemistry, so we should be better this season than before," he said.
The Warriors are hoping that their hard work will translate into team success this spring. STACK workouts are helping build and develop the players of North Atlanta and the Warriors will be coming at region 7AAAAAA bigger and stronger than ever.