Baseball Rituals Make for Ballpark Fun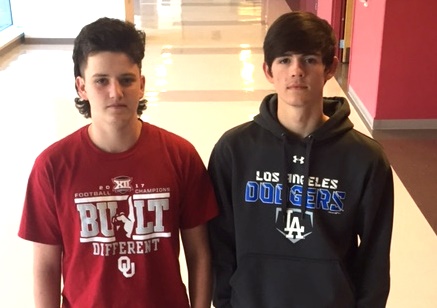 In baseball, all players have different antics or rituals or antics that they need to do to prepare for a game. Players who compete in the North Atlanta baseball program in terms of the rituals they bring between the lines.
Everyone on the North Atlanta baseball team has something they do before games to prepare for the game. These are those quirky things that are idiosyncratic for each player. To the casual fan, these actions might seem superfluous — even inconsequential — but for those who do them they are the difference between success or failure in their diamond dreams. The pregame ritual can span from just putting clothes on in a certain order to not washing things in order to preserve luck or good play. If you think about it the antics really are crazy and unordinary, but if it gets the Warriors a win, the craziness is 100 percent worth it.
        Antics of baseball players span in many ranges, and can be very subtle or they can be very over the top, making people question their sanity. For example, star baseball player Wade Boggs would infamously eat the same amount of chicken and take exactly 150 ground balls before every single game to get himself in the zone. The antics are very known by the people, and they usually go public if they are funky enough to interest people about. "I do have some baseball rituals that I do before games, but I have never had anything crazy enough as taking the same amount of ground balls before each game," said junior infielder Brett Roberts.
        Junior relief pitcher Nicholas Tranakos wears his shorts to the game and won't change into baseball pants until there are 15 minutes left before the game starts to make sure he conserves as much energy as possible. Senior pitcher Foster Olson must do a certain band workout and throwing routine before every pitching start he makes to ensure that his arm is in prime condition to get the Dubs a win. "I don't have any rituals really, but I definitely understand why people have them and believe they help," said senior pitcher Tyler Israel.
Junior third baseman Patrick Hannan said he used to have a ritual to get him pumped up when in the on-deck circle. His consistent pattern progressed along the following specific lines:  stare at the bat, take a deep breath and then tap on bill of his helmet.
"It seemed like every time I did that I really made good contact at the plate," Hannan said. "I kept it up for just one season but it really seemed to work."
        Baseball rituals are important to all the player that obtain them throughout every game, and they do believe that those rituals help lead their team to a win. Whether they do help the team win or not, people are always going to believe that, and rituals are gonna stay a thing in baseball for as long as the sport stays around.