North Atlanta Fencing Team Celebrates Its First Official Season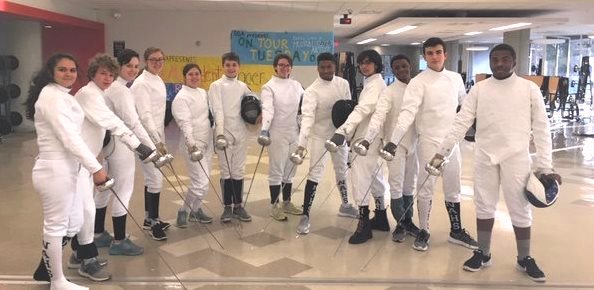 Fencing is arguably the most overlooked sport at North Atlanta. While it is still relatively new to the school, having only been around since last year, it is one of the most enjoyable and accessible sports that our school has to offer. Who wouldn't want to play a sport where you win by — sort of — stabbing your opponent?
Fencing can be an intense but rewarding sport. It's unique style requires quick reflexes and spontaneous decision-making. But the most enjoyable part of it is, of course, the fact that the primary tool used in fencing to defeat an opponent is a sword. Senior and team captain Virginia Jackson admits that this is one of her favorite things about fencing. "You get to make new friends and then immediately stab them," she said. 'How is that not fun?'"
Despite not being an official sport at the school, members of the fencing club still get to participate in tournaments against fencers from other schools. During these tournaments, fencers compete individually and try to score points against their opponents. Tournaments can be a great way for fencers to interact with competitors outside of their team. "I like going to tournaments because you get to compete and make friends with fencers from other schools," said sophomore Dauthier Debe. "You can really learn from them or just have friendly conversations with them."
 The fencers of North Atlanta recently competed in the Georgia High School Fencing League team championship for the first time, since this was the first year that the team had enough members. Both the boys team and the girls team competed at the event held on Feb. 2 at Alpharetta High School. While neither team won the championship, the girls team managed to win their first round, and everyone had a good time overall. "Even though we didn't win the whole thing we were still proud to win one round," said senior Lily Turner. "And I really enjoyed the team championship because it added a whole new level of strategy compared to the normal individual tournaments."
The 12 members of the fencing team have enjoyed a full season of tournaments and championships this year. They are hoping that next year they will have even more members and score North Atlanta a top spot in the fencing league. Anyone is welcome to join the fencing team, where you can enjoy a fun sport, participate in numerous tournaments, and fight your opponents with (non-lethal) swords. Pretty awesome, right?