What "Senior Privileges" Actually Exist at North Atlanta?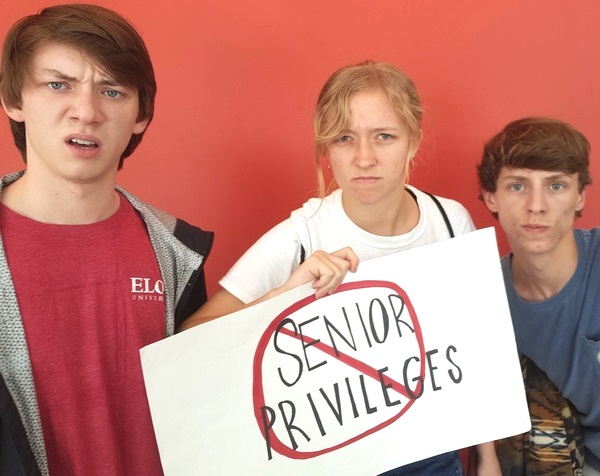 "Don't do _____ or else we'll take away your senior privileges!" is something that North Atlanta students often hear shouted at them by teachers whenever they catch them doing something they're not supposed to do. In high schools all over the world, it is common for the seniors in the building to have special privileges that set them apart from other students. These usually include benefits like the ability to leave school during lunch periods, priority parking spots, the chance to cut the line in the cafeteria, a senior skip day, and more. But do these benefits carry over to North Atlanta at all?
At North Atlanta, students have about 20 minutes to eat lunch as opposed to hour-long periods at other schools, so having seniors leave early for lunch periods is not only not allowed, but basically impossible to begin with. Lunch lines don't really care much about what grade you're in. And there isn't an organized senior skip day either, but that hasn't stopped some seniors from giving up an unexcused absence and create their own anyway, despite the best efforts of the administrators to put a stop to it. So what are the so-called senior privileges at North Atlanta anyway?
If you really want to look at the senior privileges at North Atlanta, you'll have to squint a little bit. The ability to attend prom, a field day, and graduation rituals are probably the biggest things that are classified as "senior privileges" here. Also, the chance to attend pep rallies is seen as a privilege, but when there are only two pep rallies a year, there's not much to lose. The field day is held indoors, spent doing things like playing basketball, and some seniors say that they didn't bother showing up for a school field day spent under a roof. "I don't really see what senior privileges we even have," said senior and Warrior Wire editor-in-chief Caroline Tuemler. "They always threaten to take away our senior privileges if we're bad but we don't really have many."
In North Atlanta's defense, however, it's pretty hard to install certain senior privileges when you're a public school. An hour long lunch period would either cut class time way too short, or add almost an hour to the day. Chick-fil-A is great, but is it worth being dismissed at 4:30? APS probably has bigger fish to fry than trying to pay for a senior skip day field trip, and even priority parking is hard to manage with a huge parking deck like the one at North Atlanta. We'll probably have to just wait and see if the senior privileges list ever evolves from its current barebones state.