Coach Antonio McKay Breathes New Life to Warrior Track Program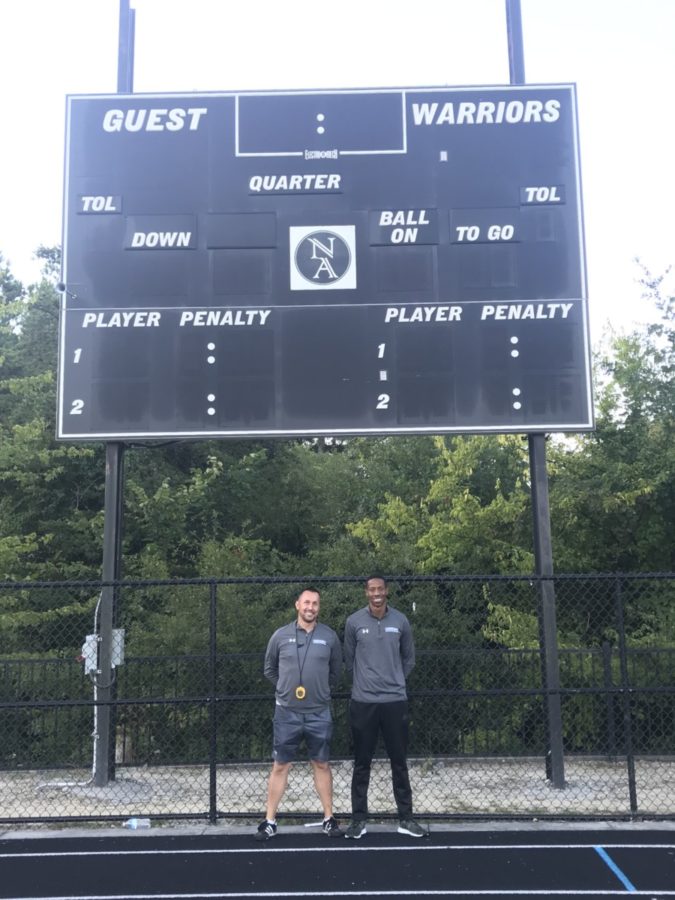 North Atlanta has gone for gold with its latest sports team hire. Warriors, meet Antonio McKay, Jr., the new coach of this year's North Atlanta cross country team. He will be accompanied by the chorus teacher, Jared Morisco. McKay is no ordinary hire, as the last name "McKay" has some very impressive background behind it. Antonio McKay Jr. is the son of former-U.S. Olympian Antonio McKay, Sr. For those not familiar with the father of the Warriors coach, he took gold for the United States in the 4 x 400 meter relay in the 1984 Los Angeles Olympics. He also took a gold and bronze medal in the 1988 Seoul Olympics for the 4 x 400 meter relay and the individual 400 meter race. 
The running gene definitely passed on to the next generation, as the younger McKay also has his share of accolades. He ran for Saint Pius X, where he was ranked number one in the state in the 400 meter. For that event, he ran the fastest time in Georgia in 2007 for AAAA with a time of 47.830. He then went on to run collegiately for Georgia Tech, the same program where his father ran. "Track has been a way of life for me and it's such a pleasure for me to turn on a younger generation on to the sport I love," he said. 
 Some Warriors on the team are very excited about the new hire. "I'm super excited to see how the new coaches push us to our best ability," said junior Foard Martin.
There's already a lot of buzz among Warrior cross country and track athletes that such a high profile coach is now leading the program. "Coach McKay and Coach Morisco are always making sure that we're trying our hardest and focused on running," said Max Ramos, one of the returning cross country runners.
The excitement between players and coaches is mutual, as both coaches also voiced their excitement about being able to coach the Warriors cross country team. 
"I'm beyond excited about it," said Coach Morisco. "There's a lot of heart, passion, dedication, and commitment, and we're seeing it every single day." 
McKay shared his colleague's perspective. "I love the mindsets out here," he said. "I like how everyone works together and makes my job easier when people are invested in what they're doing out here," said McKay. 
Many runners on the team are hoping that the Warriors can be returned to their former prominence under Coach McKay. Since being upgraded from 5A to 6A due to an increase in students at the start of the 2016-17 school year, North Atlanta has been unable to advance out of their region and make it to the statewide meet in Carrollton. In order to advance out of their region, the Warriors need to finish in the top four out of the seven other teams in their region. Unfortunately for the Warriors, their region is regarded as one of the best in the state, making it very difficult to advance out of. North Atlanta narrowly missed the state-cut in 2016 when they finished one point short from fourth place in the regional meet, and since then the Warriors have not been close to making it. "I feel like his training is the push we need to get back to state," said senior runner Alden Sweatman. 
New leadership. New confidence. A new spirit that energizes the Warrior cross country program. It looks like this year's program is slated to go the distance.