Shopping Apps Let North Students Shop 'til They Drop Anywhere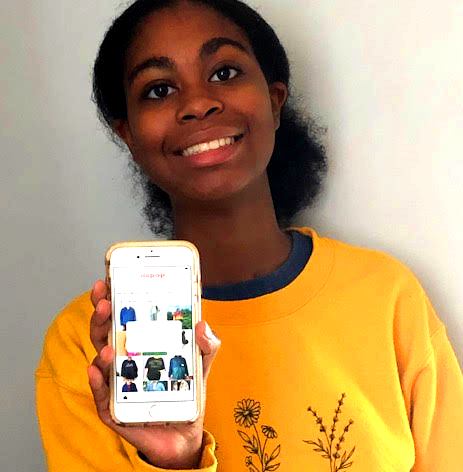 It's no secret that the population of North Atlanta High School is swarming with shopping fanatics. Be it fall, winter, summer, or spring, students and staff alike can be found at various shops and stores in their free time, from Macy's to Goodwill. To many of them, shopping isn't just a hobby, it's a way of life, and showing up to school in the latest fashion trends is a need. But considering the advent of Covid-19, one would expect the fad to die down for the time being. 
Instead, it's increased in size and strength — just in a different way. Online shopping has quickly become an avenue for prolific shoppers to satisfy their obsession, even during a pandemic. As a result, many online shopping platforms like Etsy, Aliexpress, and corporate giants Amazon and eBay have gained an increasingly vast following in recent months. 
Sites for online thrift shopping in particular have been inundated with newcomers. Poshmark and Mercari, both forums for thrifting preloved items online, have seen a rise in popularity over the course of quarantine. So has the shopping app Depop, with old and new patrons alike buying and selling secondhand clothing. Sophomore Mia Hsu is one of many who frequents Depop and other sites for online shopping. "Depop is great if you want to improve your style on a budget," she said. "And it's so easy to set up a profile." 
Despite this positive feedback, others are unenthused about online shopping. They claim that the influx of new shoppers has caused a turn for the worse. "All the new sellers on Depop overprice everything," said sophomore Debora Getahun. "Now I see people on there charging $70 for a 'y2k baby tee' that they bought for $10 from the children's section of Goodwill."
According to Getahun and others, rip offs like that prevent poor people from using Depop like they did before. Previously, they had been able to purchase clothing for cheap, but now it's difficult to find something below $20. "It's gentrification — of an app," Getahun said. 
Others are more undecided on the topic of online shopping. Sophomore Anna Larsen defines it as a complicated dynamic, with multiple pros and cons. "I like that I can see everything a store has and find specific items," she said. "But I don't like that I can't immediately try something on and sometimes shipping takes forever." 
Either way, it's evident that the shopping craze is alive and well at North Atlanta High School. Students and staff may be stressed (who isn't?) but at least they're well dressed.