North Students Say Zoom School Taking Its Mental Toll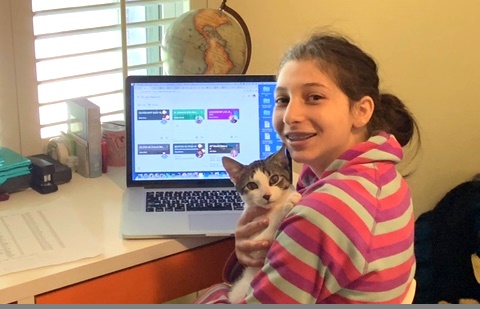 Overworked, stressed, and depressed are three words that many students at North Atlanta High School know up close and personal. Depression, anxiety, and a profusion of other mental illnesses seem to have taken root in the NAHS population. Many students blame school itself, citing academic expectations, peer pressure, and an excess of schoolwork all as things that are fomenting poor mental health. 
But as stressful as in-person school is, it's become clear that online school is even more so, for a multitude of reasons. Virtual learning brings complications of its own: issues with technology, an escalation in busy work, and difficulty understanding the content without being in a classroom setting. Not everyone has access to the materials necessary in order to navigate online school with competence, and that's speaking of things like printers, computers, a functional WiFi connection, and a quiet workspace. And for many these deficits are leading to increased stress and anxiety. 
Sophomore Emma Goldman is one of those dissatisfied with online school in general. According to her, not being able to attend school in person can be draining and demoralizing. "Just staring at a screen all day takes a toll on your mental health," she said. 
Several students are also feeling starved of social interaction beyond their family members. Without their friends and extracurricular activities, much of the pleasure or enjoyment they had previously gained from school has been lost entirely. This loss has only caused or exacerbated mental challenges for some North students."Online school has forced a lot of us to stop the activities that made school interesting," said sophomore Debora Getahun. 
The feedback from students regarding quarantine and online school isn't all bad. Some claim that learning virtually has improved their mental health, considering that they can sleep in later and go to class in the comfort of their own homes. Others state that online school has given them more free time to explore new things and form better relationships with their families, ultimately helping to develop a healthier state of mind.  "Online school has made my anxiety go down and even my stress acne went away," said junior Zoë Hall. "These past few months have been nothing but healing, getting healthy and being a better me." 
The general consensus is that online school has worsened or created mental illness in students at North Atlanta High School, although some believe the opposite and would even go so far as to say that it's actually helped. Whatever the case, it's clear that online school has impacted the mental well-being of the vast majority of North Atlanta students in some way.