Another NBA Title Secured: Is Lebron James Now The GOAT?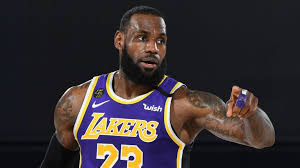 The Los Angeles Lakers have won the 2020 NBA finals after defeating the Miami Heat in 6 games. This is their first title since 2010, when Kobe Bryant faced off against Kevin Garnett and the Celtics. This championship marks Lebrons James's 4th NBA finals win in his 17-year career. With James earning another ring, his legacy once again became a topic of discussion. Haters were quick to dub this year's championship the Mickey Mouse Ring and say the bubble was rigged for the Lakers to win. This raises the question, is Lebron James now officially the GOAT? (If you're completely sports clueless, that means "Greatest of All Time.") 
The argument of who is the greatest basketball player of all time is always being thrown around social media every time one of the top contenders is mentioned. Whether it is Bill Russel, Micheal Jordan, Lebron James, Kobe Byrant, Wilt Chamberlain, or another star basketball player, no one can come to an agreement. Most NBA fans and North Atlanta students believe that Lebron James is the frontrunner for the title. Senior Seth Fagin is an avid Lebron fan and believes that James is the best all-around player the league has ever seen. "Micheal Jordan thrived in a successful system, but Lebron James is the system," said Fagin.
Micheal Jordan is also in the discussion as older basketball fans who watched him play in the '90s regard him as the Goat rather than Lebron James. Micheal Jordan has also won five MVPs to Lebron's four MVPs. North Atlanta senior Daniel Gardner agrees and has always admired the way Micheal Jordan plays. "He's the face of basketball and always will be, in my opinion," said Gardner.
Only one thing in Lebron's legacy is ever questioned, and it is his 4-6 record in the NBA finals compared to Jordans 6-0 record. Fans believe that this record taints his Goat status because of his inability to win finals. Senior Ethan Curnow thinks otherwise because of the competition that Lebron had to face. "He still managed to win four championships on three different teams, and he has made some pretty awful teams contenders," said Curnow.
  Lebron and Lakers are just getting started and will hopefully continue to support James's Goat's status. The greatest NBA player of all time may never be known, but Lebron James and Micheal Jordan will both go down as the most influential players of the game.