We Should Give Thanks to Thanksgiving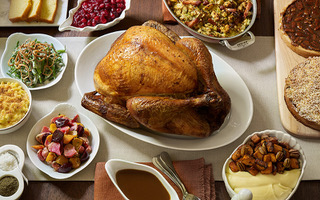 There is an immediate change from the spookiness of Halloween, with its spiders, ghosts, and scary movies to the cheeriness and joy that the Christmas season brings as November begins. But, there is that one lone holiday (that takes place every fourth Thursday of November) that no one seems to look forward to or get excited for weeks in advance. Ultimately, Thanksgiving is overshadowed by the black and orange of Halloween and the red and green of Christmas. 
Students look forward to that whole week off of school they get at the end of November, but it's clear that their love for Christmas overpowers their feelings towards Thanksgiving. A main component of Thanksgiving Break is the relaxation they get just a few weeks before finals are taken and the lure of deals that come with Black Friday as the break comes to an end. Now, even these sales have encroached on Thanksgiving Day itself and days prior to it with in store and online steals. These Black Friday deals are centered around buying loved ones Christmas gifts and take away from the celebrations of a day to give appreciation and grace to what one already has. 
Thanksgiving is a time of coming together to give thanks for your family and to make recipes that have been passed down for generations by whipping up different dishes, like pumpkin pies and mashed potatoes, or most importantly, the turkey. The smell of the upcoming meal wafts out of the kitchen, where you can find a huddle of people glued to the TV. The tradition of watching the Dallas Cowboys and Detroit Lions play other teams is a longstanding football annual occurrence. 
Once the calendar marks the beginning of November, Christmas lights are strung and speak of Santa Claus's return looms. Candy canes start to pop up, Christmas supplies are purchased left and right, and carols are played out of every speaker. These decorations dominate Thanksgiving as there is no Turkey Day decor or even songs. Magazines are sent out weeks before December with pages upon pages of Christmas gift ideas, and the whole last month of the year is focused on building up to one day.
Maybe Thanksgiving doesn't seem as appealing since it isn't a religious holiday or because it doesn't involve gifts of any kind. But, it does include a mouthwatering feast and time to spend with loved ones off of work. It is a time we should all be grateful and give thanks, especially to the holiday itself.