"The VelociPastor" is the Greatest Film I Will Ever See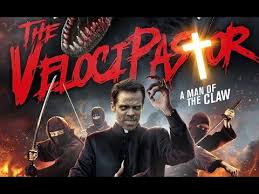 Every now and then, we get a movie that we can look back on as a benchmark of cinema, a crowning achievement of filmmaking. Brendan Steere's 2017 opus, "The VelociPastor," is just that. The film follows the story of Doug, a pastor whose life is turned upside down the day his parents die as a result of carfire, which is when your car catches on fire and you die. Doug goes on a trip to China, where he has a run in with some ninjas. In the kerfuffle, Doug gains the ability to turn into a vicious velociraptor whenever he is angry. He rescues a woman named Carol from a mugger. In a shocking and jaw-dropping twist, Doug realizes that Carol's, uh, "boss," Frankie Mermaid, (this is a family newspaper) is the same man who blew up his parents' car. He kills Frankie Mermaid and the movie takes off from there.
The cinematography and special effects in the film are breathtaking, and every explosion or dinosaur transformation was so realistic that it had me doing a double take to make sure that didn't just happen in my own living room. The performance of Gregory James Cohan as Doug will have you laughing, crying, and screaming all in just 70 minutes. One of the more tear-jerking moments in the film is when Father Stewart, a fellow pastor, flashes back to his time in The War. His wartime buddy Ali gets shot in the face and dies, and then his girlfriend Adeline blows up when she runs over a landmine. This scene had me balled up on my floor screaming and crying, and it was several days before I could muster the courage to finish watching the movie due to this great trauma.
The climax of the film is incredible. Doug and Carol have one last showdown with some cocaine-dealing ninjas who want to take over the world and forcibly convert everyone to Christianity. Yet another earth-shattering twist is introduced when Sam (the caucasian ninja) is revealed to be Doug's long-lost brother. After this revelation, we are treated to one of the greatest fight scenes in cinematic history, capped off by Doug using telekinesis to get the sword and defeat his brother. However, he is shot by the boss ninja with velociraptor antivenom. Luckily, Doug's hands are immune to antivenom and he rips the boss ninja's head off. During the battle, Carol is badly wounded, but we are saved from what would've been the saddest death in movie history when the doctor says Carol is fine. I'm realizing now that I forgot to say "spoiler alert", but you're here now, so my bad I guess. 
This film has it all. Action, suspense, a love story, dinosaurs, and ninjas with a hint of God sprinkled throughout. You will feel every possible human emotion after watching this film. Doug's victory is our victory. His pain is our pain. The best movies are those that we as people connect to and relate to, and there is no film more relatable than one about a priest that can turn into a dinosaur and fight ninjas. The VelociPastor is a masterpiece, and it is one that everyone should watch.
Leave a Comment