Celsius At Your Service: Students Obsess Over New Caffeine Drink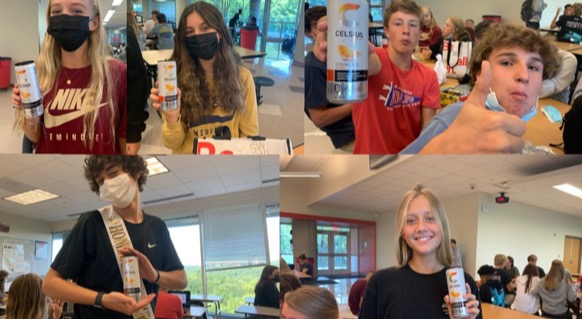 When it comes to energy, Celsius is the number one choice for students around North Atlanta. These silver aluminum cans are filled with authentic ingredients and straight caffeine, attracting sleep-deprived students by the masses. Students of all grades can be seen slurping down their Celsius drinks to prepare for another day of hard work. 
It appears as if Celsius, the popular new energy drink, materialized out of thin air but has made its way into the hands of people everywhere. Celsius is advertised as "a fitness drink that accelerates metabolism, burns body fat, and provides healthy energy." It originated as a pre-workout and weight loss drink but its image has evolved to appeal to a much wider base of consumers, primarily caffeine-crazed kids. 
Celsius is booming in the beverage industry. Its appeal is its formula full of wholesome ingredients—which is uncommon among energy drinks. It is produced with green tea, ginger, guarana, and other vitamins, along with zero sugar and a seemingly illegal amount of caffeine. Sophomore Anna Samuelson walks in the North Atlanta school building with a Celsius in hand every day. "Celsius is my savior," Samuelson says. "It is what gets me through the day." 
Whatever you want, Celsius has it. Celsius is not limited to one drink, but rather four different drinks and a powder, each with a range of flavors. Interesting blends of carbonated and noncarbonated flavors fill the mouths of many Warriors. Spanning from orange, strawberry guava, and peach, to cola and grape juice, Celsius's tastes are subtle but pleasant. Fans rave about their favorite energy drink and stay loyal to it. One devoted Celsius drinker at North Atlanta is sophomore Dawson Sharma. "There's no doubt I would choose Celsius over Monster, Red Bull, or even coffee," Sharma said.  
Currently, it's a hunt to find favorite flavors of Celsius in stock because of the volume of Celsius shoppers. People are drawn back to the cruciality of this caffeine overload, which is more than enough reason for gym rats, weight loss achievers, and homework-ridden, sleep-deprived students to continue to come back for more. "I drink at least one a day, and they're not cheap," sophomore Luke McCullough said. "My Celsius addiction is most definitely draining my bank account so it's probably for the better that I can't find them anywhere."
The appeal of Celsius may be questionable to some, but amid the frenzy of Celsius drinkers, it is clear that Celsius has managed to take the fancy of a large consumer base. Celsius will without a doubt stay a Warrior staple as the school year continues.
View Comments(1)