Highly Anticipated "Music Midtown" Disappoints Dubs With its Mediocre Line-Up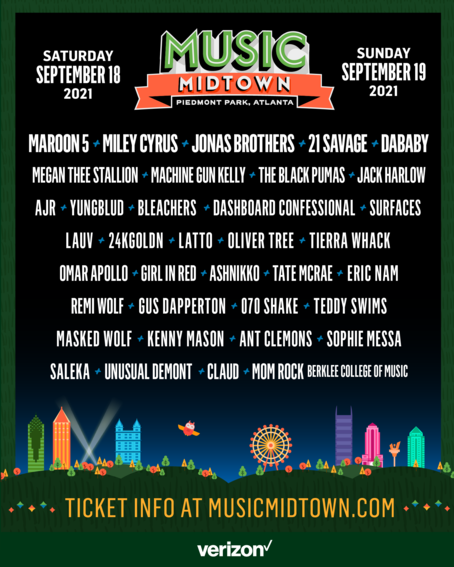 Back before the times of quarantine and masks, a huge staple of the North Atlanta community was the ever-so-awaited Music Midtown, a music festival hosted in downtown Atlanta. During the weekend of September 17, a flood of posts by students hit social media platforms, making it so that the only thing you see when you scroll is the crowded background of thousands of people. Though this is an exciting time for most students, the line-up this year has been dispiriting kids to say the least.
The line-up, which was released earlier in the summer, has been met with mixed opinions. Some argue that the line-up has a lot of throwback performers, evoking a sense of nostalgia in a lot of kids today. Specifically, the Jonas Brothers excited a lot of people. However, many others say that the line-up is a complete mess. Maya Ratchev, a Junior, agrees with this stance. "It looks like they threw it together at the last minute and it's full of even more obscure artists that no one listened to," Ratchev said. "I am excited for Megan Thee Stallion though, but not enough to make me want to go."
The line-up has also not excited many people who do generally enjoy the line-ups. Junior Se'lah Robinson has talked about how she likes the people that usually headline the festival, but is disappointed with who was chosen this year. "I don't really like anybody performing, they're all very boring," Robinson said. "Hopefully it is better next year."
If there aren't already enough issues surrounding Music Midtown, it is also causing issues with the numbers of people attending. Because of the spread of the new Delta Variant, the need to be socially distant has been accelerating. Though Music Midtown is requiring you to have a vaccination or negative Covid test if you wish to be unmasked, the closeness of the group is guaranteeing some sort of sickness to spread throughout Atlanta. Though these restrictions are in place, many students are hoping that COVID-19 won't affect it too much. Sophomore Kate Warren is one of those students. "Obviously most people are going to be wearing masks because it's required, but I think for vaccinated people it will be like what it was for most people years ago," Warren said.
Though dissatisfaction over the line-up has permeated throughout the halls, the reality that people are going to be able to attend concerts and music festivals has stirred a lot of exhilaration. Because we can finally go back to seeing people perform, the uninspired line-ups may not even really matter to them. The atmosphere of being back for in-person concerts is thrilling for most attending. Hopefully, the Dubs will find a way to have fun, even if they don't favor some of the performances.
Leave a Comment