Warriors Behind the Curtain: NAHS Students Bring Their Talents to Sutton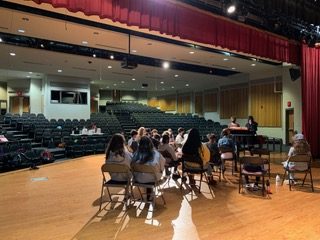 It's no secret that North Atlanta is chock full of theatrical talent. Many students anxiously await auditions for the NAHS spring musical every year, excited to showcase their skills. Along with this, students have been sharing their talents in a more instructional way. Taking it back to their middle school days, Warriors are switching from lead roles to leadership roles and volunteering by directing the Sutton Middle School musical.
NAHS student involvement in the SMS theater program has been a long-standing tradition. The show is student-produced, with North Atlanta students controlling all elements of the show, whether it's on stage or behind the scenes. This year's production is Camp Rock, directed by North Atlanta seniors McKenna Weinbaum and Maya Curnow who could not be more excited with their selection. "It was a long decision process although I'm honestly thrilled with our choice of Camp Rock," said Weinbaum. "Not only is the story well-known, but it's also a blast to direct and perform."
Many NAHS volunteers are Sutton alumni themselves, making this collaboration very meaningful to the Warrior-filled crew. The majority of these volunteers were a part of the cast during their years as Sutton students. Seeing both perspectives has given students insight into being the best mentor they can be. Now as directors and crew instead of actors, they run the show (literally). "From seeing both sides of the program I can implement what I found engaging and important as a cast member in order to best teach the material and create a positive environment with the rest of the cast and crew," said Curnow.
Like most things in life since that fateful day in March of 2020, Covid has altered the rehearsal routines. All students, both cast and crew, are required to wear masks for the entirety of rehearsals, and social distancing precautions are enforced. Despite the bump in the road caused by Covid, everyone involved in the musical is filled with excitement to be producing the first show back since the pandemic began. "I will say, it's quite crazy right now though. Costumes, lighting, sound, set… time is flying by fast!" said Weinbaum.
With only weeks left until opening night on November 11th, producers and performers alike are eagerly putting together all the final pieces. With all the hard work and talent put into production, it's no doubt the show will be a hit.
Leave a Comment