The Met Gala: Do American Icons Know American Fashion?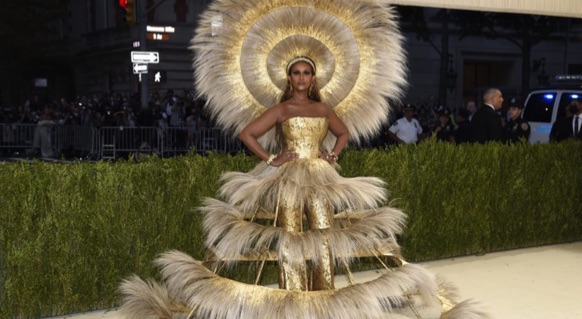 The Met Gala is a high end fashion event annually held at the Metropolitan Museum of New York. This affair is the culmination of the world's most renowned celebrities, designers, and fashion brands, all teaming up to create a celebration of fashion like no other. A theme is assigned each year, pushing designers to build a look that will sew their celebrity onto the best dressed list despite sharp eyes and harsh opinions.
This year's theme was "In America," a line of fashion focused on clothing made in the USA. Among the best dressed are Little Nas X, Iman, and Barbie Ferreira. Pulling inspiration from Lady Gaga at the Gala prior, Little Nas stunned everyone with two costume changes on the carpet. The music star wore layers of gold to symbolize his coming out. Barbie Ferriera came clad in a dress made from strings of pearls. The look pulled from the glamour of old Hollywood and dazzled interviewers and paparazzi alike. As for Iman, it is no surprise that she reigns over the gala with designer Harris Reed. Reed never fails to impress and is best known for dressing Harry Styles. Together, they redefine fashion and its fluidity. 
At the forefront of celebrities on the chopping block is Kim Petras. Petras and designer Hillary Taymour came in floral sets with 3D horse head bustiers to top off the look. Although inspired by the fantasy book Animorphs, the look missed the mark of the real world altogether. Next up is the horde of men such as Ben Affleck, James Corden, and Elliot Page who came dressed in nearly identical black tuxedos. Albeit a red carpet staple, the fashion is tired and shies away from the aim of the Met Gala to innovate fashion. The tuxedos received no more praise on the carpet than a pair of plaid pajamas would.
Finally, there are those who met the theme but failed to impress. TikTok star Addison Rae arrived in a red 2003 Tom Ford x Gucci dress. Although elegant, the gown left viewers wanting more, much like the black tuxedos. These classic dresses hold a place in fashion but not at the Met. Timothée Chalamet was one of the first on the scene in a white tuxedo jacket, sweatpants, and converse. Although perfectly representing American street fashion, even Chalamet could not pull off the dreary look.
With such a simple prompt one would assume the ensembles would amaze, however, the red carpet was filled with the good, the bad, and the mediocre. Despite its impressive reputation, most guests seemed to impressively miss the mark. Few went big and many went home.
Leave a Comment