NAHS Art Program Creating The Next Generation of Exceptional Artists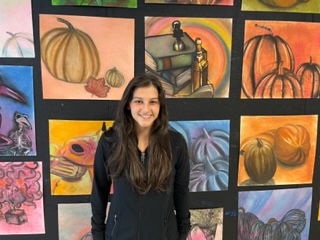 It's safe to say that almost everyone is aware of the historic artwork found across the country of Europe. From Leonardo da Vinci's Mona Lisa to Water Lilies by Claude Monet, there is no shortage of magnificent art. Most also know of the beautiful art featured in the museums from New York down the east coast to Atlanta. Yes, the artwork featured in these museums might be elegantly hung with bedazzled, golden frames outlining artistic excellence, but the images lining the halls of North Atlanta's fourth floor do not need ornate, gold frames to highlight their true fervor. 
North Atlanta strives to be a high school that brightens students' minds, enhances academic rigor, and opens the minds of young people, and one major factor that aids NAHS in surpassing these expectations is the outstanding art program. Offering rigorous courses such as visual composition, drawing/painting, applied design, and ceramics, young Dubs artists just might be on the path to becoming a modern-day van Gogh. Junior Carter Martin said, "Being in the NAHS IB art program has not only helped me to acquire new knowledge about the subject but has also pushed my boundaries and made me more persistent." 
However, nobody can become the next da Vinci without starting somewhere, and this is where the North Atlanta Art Program takes effect. Through a combination of hard work, dedication, and meticulous effort, Dubs artists are taking the leap and are on the path to becoming talented artists with the swish of a paintbrush. "The NAHS art program is definitely challenging, but it's also very rewarding. Personally, I love how the program motivates me to try new mediums," said Martin. 
A typical day in the art program is incredibly demanding as well as gratifying. Sophomore Emerson Crow said, "No matter what, we always accomplish so much in art class. Afterward, there is always such a huge reward knowing I worked hard and all my effort paid off."
Although the NAHS art program is a rigorous, often stressful course, teachers like Ms. Allison Shepard are there to guide students down "their own canvas." "As an art teacher, I love seeing students reach their 'aha' moment and push past boundaries to create something better than they ever imagined," Shepard said.
Walking through the halls of the fourth floor and through the winding staircase in the middle of the building, it is not likely one would see colossal sized golden frames outlining astonishing art pieces but instead the work of talented, skilled Warriors who accomplish such an artistic feat that no golden frame could outshine the true achievements the artists of North Atlanta conquer every day.
Leave a Comment