John Mulaney's New in Town!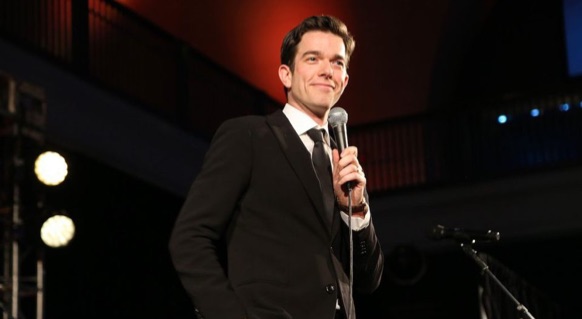 Comedian John Mulaney is taking center stage at the Coca-Cola Roxy center this week on his latest tour. Mulaney started his career as a writer for Saturday Night Live and has been steering through his rise to fame ever since. This tour's title, "From Scratch," reflects on the falters in his rise due to his battle with drug abuse and consequently him starting anew on the comedy scene.
Mulaney left rehab after a two month stay in February and announced dates for his fourth comedy tour around the country soon after. Originally featuring six Atlanta shows, the itinerary was quickly updated to nine shows to cope with the large demand. It's safe to say that Atlanta was more than enthusiastic to welcome the star. The buzz of excited fans made the atmosphere at the show exhilarating and welcoming. "The ambiance made the show ten times better. I loved hearing everybody's laughter and reactions to the jokes," said sophomore Leola Hayal.
Upon entering the venue, the first shock came when the audience's phones were forced into small un-openable pouches that could not be unfastened until after the show to prevent filming and photography. Although inconvenient, the lack of devices forced the crowd to be more present and inspired a conspiracy that the shows may be filmed for yet another of Mulaney's Netflix specials. "Not having phones made the show feel more comfortable, everyone seemed united and in the moment," said junior Emma Gleeson.
Sophomore Lauren Davis kept her expectations in check when entering the show. She was mindful of the recent controversy surrounding the comedian and painfully aware it might affect his performance. The show shifted focus to the last year of Mulaney's life and his struggles in rehab and with substance abuse, instead of his normal, all over the place, banter. Despite the difference in material, he kept his renowned delivery, while keeping the audience on their toes. "He got the audience to laugh at his trauma, which is a hard thing to do so he must have done a good job. I think using comedy is helping him work through a lot," said Davis.
Everybody loves a comeback story, especially one for self-proclaimed "Comeback Kid," John Mulaney. Dozens of sold out shows prove that not only is he an Atlantean favorite, but an American Icon. The stage has been set for a mighty return and a voracious Act II in Mulaney's career.
Leave a Comment